As part of its plan to address financial challenges facing the Vermont State College System, Vermont Technical College is selling surplus real estate including 6 acres in Norwich adjacent to UVLT's Brookmead Conservation Area. The Herald interviewed VTC President Pat Moulton about the school's plan.
Some community members have been concerned that the sale might affect the conservation status of the Brookmead Conservation Area or that the 350 acres that make up Brookmead Conservation Area are for sale. Rest assured, this land is not at risk to sale, development, or subdivision. Our conservation and stewardship pursuits at Brookmead include leases for hay and grazing beef, revegetation of federally mapped wetlands, a garden dedicated to local food shelves, hiking and other activities.
Other community members have asked if UVLT pays taxes on Brookmead. The answer is that yes, since we purchased the property, the land has been enrolled in Vermont's Use Value Appraisal program ("current use") under the conservation category, and we have paid our annual property taxes.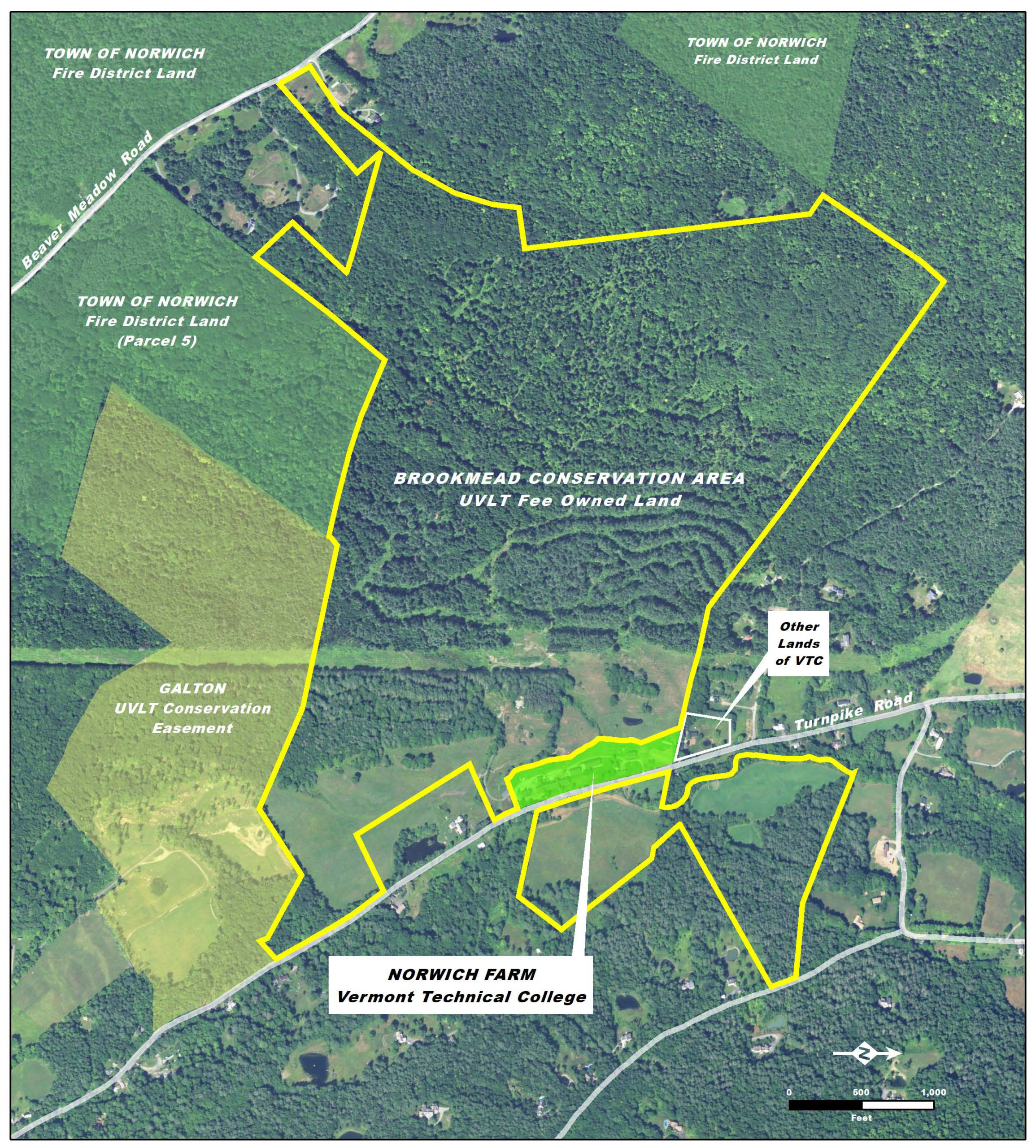 Although UVLT had once expected to own the 6 acres, the Vermont Technical College was not able to complete the sale several years ago and the matter was resolved. Realtor Cam Brown has listed the property for Vermont Technical College. Questions about allowable uses under local and state ordinances can be directed to Cam Brown.
UVLT is not engaged with the sale of the 6-acre property or its future use. Trails at our Brookmead Conservation Area are open for recreational enjoyment and we are looking forward to another great season with the food pantry garden. Please contact contactus@uvlt.org with questions about our trails or to sign up to volunteer at the garden.
Additionally, regarding recent comments in a news story about UVLT and VTC's settlement agreement –
Vermont Technical College defaulted on a contractual obligation to convey a 6 acre property to the Upper Valley Land Trust in 2018. UVLT will receive payment for the damage caused by this default at the time that VTC sells the property. Proceeds that UVLT receives will be used for UVLT's charitable land conservation and stewardship mission, as would have occurred if UVLT had been able to acquire the property for its mission as the contract provided.
UVLT did not cause the default and is in no way responsible for the discontinuation of the VTC program in Norwich or VTC's decision to sell its surplus property. UVLT has not been actively involved in reviewing or rejecting prospective purchase offers that VTC might be receiving.
https://uvlt.org/wp-content/uploads/2021/02/IMG_3458-scaled-e1612478697667.jpg
2099
2208
Lorie Hood
http://uvlt.org/wp-content/uploads/2021/09/uvlt-logo-stacked.png
Lorie Hood
2021-03-18 16:15:10
2021-04-06 15:49:55
Brookmead Conservation Area