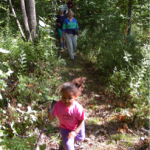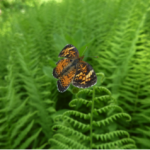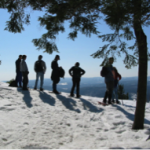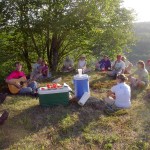 Monarch Tagging at Up on the Hill
Looks like rain on Saturday the 14th so we will be utilizing our RAIN DATE of Sunday the 15th. All other details are the same. Call with questions (603) 643-6626
September 14th 15th
2 – 4pm
Up on the Hill Conservation Area
Richardson Road, Charlestown, NH
Have you noticed adult monarch butterflies flying around lately? September 3 –15 is PEAK MIGRATION WEEK for our area. Adults are riding the southerly winds during the day and feeding in the late afternoon. They roost in trees nearby overnight and are off again the next morning.
Scientists who study monarch migration use information gathered from observations recorded online and tagging programs to learn more about this amazing natural phenomenon. Everyone is invited to help SCCD & Upper Valley Land Trust collect more information through monarch tagging.
There is no charge to participants and no experience is necessary – so bring yourself, your kids (all ages), your friends, and your neighbors! If you have a net, bring that too, though SCCD will provide the tags, nets, and instructions on how to net and tag monarchs. The monarchs will most likely be foraging for nectar among the flowers in the field and fueling up for the next day's flight, so it's a good idea to wear long pants, sneakers and a hat. Bring plenty of water too!
Raindate: September 15th
Directions: Route 12 in Charlestown to Morningside Lane or Chestnut Flats Rd and right onto Morningside Lane, left onto Richardson Rd. A dirt road. Look for signs for the event. Parking area at end. You will see a kiosk. Continue walking down the road to the barn. Tagging will happen in the fields near the pond. Look for a tent.

Boots & Brews at the West Windsor Town Forest
September 21st
3-7 pm
Parking Lot of Coaching Lane
West Windsor, Vermont
Join us for the final Boots & Brews of the season! We will spend a Saturday afternoon celebrating the end of one season and the beginning of another with a hike around UVLT's largest conservation easement. After the hike we will head to Brownsville Butcher and Pantry for drinks.
Meet in the parking lot off Coaching Lane. More details on the hike route coming soon!

Harvest Dinner
September 25th
5:30-7:30 pm
Sunrise Farm
1759 North Hartland Road (Route 5)
White River Junction, VT
Share a potluck* meal with UVLT at Sunrise Farm in Hartford, VT. Great local food begins with good land! The Upper Valley Land Trust conserves the land that keeps our region growing! Learn more about UVLT's work with farmers and farmland during this dinner.
* Please bring a dish to share and your own plate and utensils to help us minimize waste. Please RSVP by calling 603-643-6626 or emailing contactus@uvlt.org