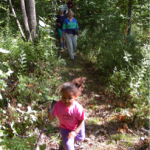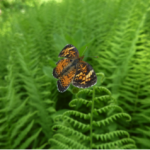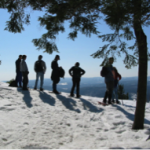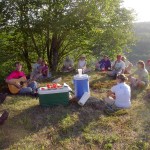 Trail Opening Day at Brookmead Conservation Area
Join us for the afternoon of May 18th to celebrate the official 2019 opening of the Brookmead Trails! UVLT will be raising money during this event for a stewardship fund that will go toward maintaining the property as a recreational area and upgrading the cabin so that the space is usable both for UVLT and the community.
Brookmead Conservation Area is located at 723 Turnpike Road in Norwich, VT. The cabin is located about 1/3rd of a mile from the parking lot, up a farm road.
At 4pm we will have a fun run, with walking and biking options ($25 entry fee). At 5pm we will gather at the cabin for a cook out with music and drinks. Music by Rob Lees and Cody Williams of Still Hill.
We will be raffling off "Sip"tember Fest tickets and giving shirts away to race participants and donors.

Visit the Ticknor Woodlands Restored Vernal Pool
May 23
6pm
Ticknor Woodlands, Dulac St. Lebanon
Join UVLT on May 23rd at 6pm at the Ticknor Woodlands Property on Dulac Street in Lebanon for an educational outing. We will discuss the vernal pool restoration that took place on the property last fall, check the pool for egg masses, tadpoles and adult amphibians and discuss why vernal pools are such important wildlife habitat.