<![if !vml]>

<![endif]>
Last Chance to Buy Annual Meeting Tickets!
Pre-meeting activities (weather-permitting) will include a bike ride with UVLT staff, a guided walk to Dartmouth's Brown Ash Swamp with Donna Roberts Moody and John Moody and a Farm Tour (rain or shine) led by Dartmouth Organic Farm Manager, Scott Stokoe. RSVP for pre-meeting activities to Nora at noradoyle-burr@uvlt.org or (603) 643-6626 ext.102.
If you plan to join us for dinner, please RSVP and purchase tickets ($20 per person or $10 for children under 12) by the end of the day today, Tuesday, May 31 by visiting http://www.benefitevents.com/auctions/uvlt/ or calling (603) 643-6626.
Online Auction Bidding Will Close at Noon on Thursday
Items in UVLT's online benefit auction are going fast! The auction features guided outdoor activities, dinners, local food products, artwork by area artists, gift certificates to Upper Valley businesses and more! Online auction bidding on all except live auction items will continue through noon on Thursday, June 2, visit http://www.benefitevents.com/auctions/uvlt/ to bid today!
<![if !vml]>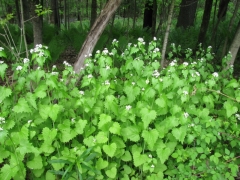 <![endif]>
WHY: Garlic mustard is tenacious invasive plant found in relatively isolated spots in our area, but it's ability to spread rapidly and disrupt native forest plant communities has raised increasing concern, and the infestation at Buck Road is one of the most established in Hanover, located right near the edge of the Mink Brook Natural Area. Garlic mustard efficiently displaces other native species, kills beneficial fungi in the soil that trees rely on for effective growth, and is distasteful to native herbivores, so it has significant potential to quickly alter the natural communities in our area – active management now can make a big difference!

PART 2:
Volunteers who helped pull garlic mustard last Monday made dramatic headway and removed a huge number of plants from the invaded area between Buck Road and Mink Brook – thank you! The effort was really valuable, and the area looks so much better - Plus it was quite fun working together, so much so, that we are inviting you to join us again as we take a crack at the remaining large patch just west of where we worked last week. Come help with this effort and you will quickly learn how to ID the plant which can help you find it in other places (this is one of the best ways to help prevent small start-up colonies from getting established)!

WHO: YOU! And as many recruits as you can find to join UVLT staff for this Pulling Party Part 2! Let's make the rest of the area look as good as the spots that were cleaned up last week!

A few other details: This plant is pretty straightforward to hand-pull, so you can bring gloves if you'd like, but it isn't really necessary if you don't mind getting a bit dirty (who minds getting dirty?). Wear clothes appropriate for working outside – and it's probably wise to consider bug spray and/or long sleeves/pants. There is easy access to water and bathroom facilities inside UVLT's office, and again we will have refreshments for all our volunteers!
19 Buck Road | Hanover, NH 03755 US