<![if !vml]>

<![endif]>
<![if !vml]>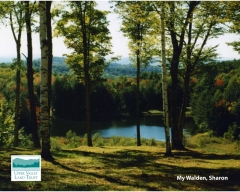 <![endif]>
UVLT's 25th Anniversary Traveling Photo Exhibit Ė Reception
Thursday, June 30, 5 - 7pm
Ledyard Gallery, Howe Library, 13 South Street, Hanover, NH
In celebration of the Upper Valley Land Trustís 25th anniversary, several of the organizationís successes are being highlighted through a traveling photo exhibit. The final venue of our tour will be the Ledyard Gallery at the Howe Library in Hanover. The exhibit will be at the Howe through the month of July, beginning with this reception. Refreshments will be served. Please join us!

Contact Nora if you have any questions at noradoyle-burr@uvlt.org or (603) 643-6626 ext.102.
Colatina Exit Italian Restaurant, 164 Main Street, Bradford, VT
Monday, July 4, 6:30pm
Co-sponsored by the Upper Valley Land Trust and the Bradford Conservation Commission
Thetford Congregational Church, 2596 Route 113, Thetford, VT
Sunday, July 10, 7pm
Co-sponsored by The Upper Valley Land Trust, the Thetford Congregational Church, and the Thetford Conservation Commission
VINS Nature Center, 6565 Woodstock Road, Quechee, VT
Thursday, July 14, 7pm
Co-sponsored by The Upper Valley Land Trust and VINS
See the first full-length, high-definition documentary film ever made about legendary conservationist Aldo Leopold and his environmental legacy! Green Fire shares highlights from his extraordinary career, explaining how he shaped conservation and the modern environmental movement. It also illustrates how Leopold's vision of a community that cares about both people and land continues to inform and inspire people across the country and around the world, highlighting modern projects that put Leopoldís land ethic in action in a multitude of ways. Please join us!
To learn more about these screenings, to RSVP or to schedule a screening in your community, contact Nora at noradoyle-burr@uvlt.org or (603) 643-6626 ext. 102.
These screenings are free and open to the public.
Last Sunday eight of us walked the outer loop of the Cossingham Road Farm trails. It was a gem of a day; summer warm but not hot with just enough breeze to keep us insect free. Blackberries were blossoming here and there and some of the summer wildflowers, such as the blue eyed grass, made several appearances. The woods were quiet, beautiful and peaceful; our many conversations the only sounds. The last part of the trail was an easy downhill along a pasture with a wonderful view of Moose, Smarts, Cube and Moosilauke Mountains in front of us. As one of us said along the way Ē I havenít hiked with a group in a long time. Itís nice.Ē Sharing seems to add to the pleasure. Join us some Sunday.
Roger Hanlon, UVLT Trustee and Sunday Stroll Leader
jrhanlon@daypitney.com or (802) 785-2798
<![if !vml]>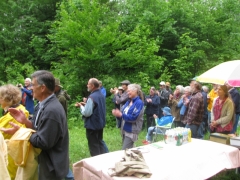 <![endif]>
Celebrating a Communityís Forest in Corinth
New energy is growing out of a generous gift of land from Sue Shea to the Town of Corinth, honoring her late husband Frank. The new F.X. Shea Town Forest, as the 94 acre property will be known, truly is a community resource. As Val Stori, the Town Forestís new coordinator, said to the nearly 50 people at the June 12, 2011 dedication ceremony, ďthis is your forest!Ē The Corinth Conservation Commission and newly-formed Town Forest Committee will work with Stori to plan events, work on day to day management, and promote the forest as an educational resource.
Read more in the news section of our website.
<![if !vml]>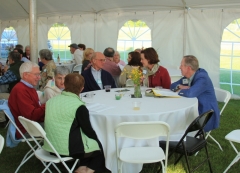 <![endif]>
UVLT 2011 Annual Meeting & Auction
Approximately, 170 UVLT friends and supporters gathered on June 3rd at Dartmouthís Organic Farm on Route 10 in Hanover to celebrate 25 years of Upper Valley land conservation work. Thank you to all of our attendees and Annual Meeting Auction participants. With your help, we were able to raise more than $14,000 to support UVLTís work. Not only that, but we had some fun in the process! We look forward to seeing you again next year for UVLTís 26th Annual Meeting & Celebration.
Thank you to our sponsors and guests for making this event possible! View a list of sponsors and a slide show from the event at www.uvlt.org/news.
19 Buck Road | Hanover, NH 03755 US