<![if !vml]>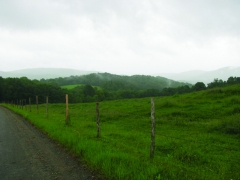 <![endif]>
Six Hundred Acres Protected in Strafford!
The Upper Valley Land Trust is pleased to announce the protection of over 600 scenic acres in Strafford. The property consists of two hill farms that are very much a part of the working landscape, with open fields providing hay and pasture for neighborhood cattle and horses, and productive forests contributing timber and valuable wildlife habitat near a state wildlife management area.
"Marion, Louise, Hope, Bunny, Margaret and I are pleased that the farm is now under a perpetual conservation easement. Four generations of our family have enjoyed Ames Farm to date, and we hope this love of the land will continue." ~Loulie Mauran, Easement Donor
<![if !supportLineBreakNewLine]>
<![endif]>
The land's agricultural legacy, undeveloped forests, and scenic character will continue to benefit the region long into the future.
Family Land Conserved in Weathersfield!
New lifetime member Sarah Wunsch donated a conservation easement on her 135 acres in Weathersfield this winter. Mostly forested, this property encompasses a variety of habitats including a nearly 8.5 acre wetland that was studied by the state's Natural Heritage program as well as some lovely open meadows that support Bobolink and views to Mount Ascutney.
Sara Wunsch decided to name the property after her grandmother, Minnie Gellis, who came to the U.S. from Minsk, Russia in 1905 at age 18. Minne lived in Claremont NH for a number of years but never resided on the conserved land. Sarah's family has, however, owned the now conserved property since 1970.
In addition to Sarah's generosity in donating the easement,
the Weathersfield Land Preservation Association has made a
grant to UVLT to help cover the costs of this project.
These projects have helped bring the mid-fiscal year tally to over 1500 acres in ten separate tracts.
What a great way to start the New Year!