<![if !vml]>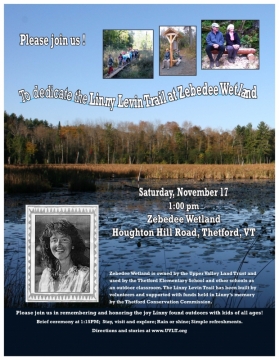 <![endif]>
New Kiosk at Zebedee Wetlands!
Click here to check out our slideshow of the kiosk installation. A big thank you to everyone who helped with the kiosk, including, but not limited to: Connie and Frank Snyder, Bob and Laura Pulaski, Kevin Brooker and his two kids, Olivia and Nate, Tim Ulman, everyone at the Thetford Conservation Commission, and Timberhomes, LLC for bringing our vision to life!
Save the Date: Linny Levin Trail Dedication
On November 17th at 1pm we will gather at Zebedee Wetlands to celebrate a beloved community memeber, Linny Levin. Improvements to the existing trail were made using monies from a Memorial Fund held by the Thetford Conservation Commission in memory of Linny and it seems fitting that, in this way, she will continue to bring people and nature together.
Please join us in remembering and honoring Linny.
For more information on the dedication click here and to track the progress we've made on the trail visit: www.uvlt.org and search for 'Zebedee' .