Our goal: Supporting and promoting healthy local food and opportunities for those who grow it.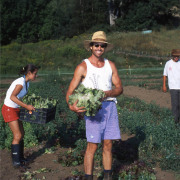 Land conservation is a critical component of a healthy and secure local food system.
Across the United States, many farms have disappeared over the last 50 years, and many of those which remain have become larger and focused on the production of only one or two commodity crops. Food is produced far from where it is consumed. There are environmental costs, energy costs and costs to community health.
In New Hampshire and Vermont it has been estimated that 35 acres of rural land are lost to development every day. The volatility of milk and other commodity prices, an aging generation of dairy farmers, and high capital costs for entering farmers put agricultural land at particular risk. But here in the Upper Valley, Â family farms are bucking the trend. UVLT is a vital partner.
We value health and quality of life for all Upper Valley residents and we are committed to a future where local farms are a critical part of our economy and ecology. Â Farms provide livelihood for our neighbors and they support numerous related small businesses. Farming forges connections with the natural world. We follow the growing season through our purchases at farmstands and CSA's; we look forward to annual cider production, hayrides and agricultural fairs; we enjoy the smell of newly-mown hayfields and the sight of spring lambs; local farms allow our children to experience cultivation and harvest.
Farming is a traditional way of life here, and we can't afford to lose farms and farmland. Â At the same time, changing demographics, energy costs, climate change, and macro economic trends, require us to be innovative and forward-looking. UVLT is in this for the long haul because we realize that sustainable farming starts with good land and deep roots.
CURRENT FARMLAND CONSERVATION PROJECTS*:
Sullivan/Hogwash Farm, Norwich. Margaret Sullivan is working to conserve nearly 60 acres of farmland she owns along Town Farm and Goodrich Four Corner Roads. An initial grant has been approved by the USDA Natural Resources Conservation Service and additional funds are being sought from the Vermont Housing and Conservation Board with a decision due by February of 2016. Simultaneous to conservation, the farmland will be sold to Nancy LaRowe of Hogwash Farms to help her establish a foothold in the Town of Norwich, while expanding her production for her locally operated farm-stand and C.S.A.
Richardson Farm and Garvin Hill Sugarbush, Hartland. We received grants from the Vermont Housing and Conservation Board and the USDA Natural Resources Conservation Service and have raised funds locally to purchase conservation easements on the 194-acre Richardson Farm and 96-acre sugarbush. This award-winning, multi-generational farm is a landmark in Hartland and a vibrant part of the local economy. We  purchased the conservation easement on the farm December 18, 2014 and hope to wrap up the conservation of the sugarbush by spring 2016.
Edgewater Farmland, Cornish. A thriving fruit and vegetable farm has expanded operations onto this 60 acre parcel. To help with the acquisition, the farmers teamed up with UVLT to find conservation funding . Grants have been awarded by the 1772 Foundation, the USDA Natural Resources Conservation Service, and New Hampshire's Land and Community Heritage Investment Program (LCHIP). We hope to complete the conservation easement summer 2016.
Haynes Dairy, Claremont. An award-winning organic dairy farm is entering a transition period as its owners are nearing retirement. UVLT is assisting John and Beth Haynes, who desire to conserve their farmland before passing it to new farmers.  "Land for Good," a non profit farm access group, is helping the Haynes identify a farm buyer so that, following the sale of the conservation easement, they may sell the property at its agricultural value  to a new owner who will continue to farm it. To purchase the easement, UVLT has obtained funding from various sources including the USDA Natural Resources Conservation Service and the Russell Foundation.
Woods Cider Mill, Weathersfield.  Willis and Tina Wood have added to their long history of supporting land conservation through a donation of development rights on 150 acres of their farm and woodland. This property has served as the central location for the Wood's cider operation where they produce between 6 and 32 tons of cider jelly and 10,000 to 52,000 gallons of apple cider each year. Willis is a sixth generation owner of the farm, and his children and grandchildren, some of whom live across the road, make it eight generations who have worked and helped on the farm. His family has been making boiled cider since 1882. The property itself is incredibly diverse, featuring rolling pastures, hayland, and a significant sugarbush, as well as 38 acres of prime or statewide significant soils. Completed Fiscal Year 2016! More information here.
*UVLT manages dozens of conservation projects. Some solutions arise quickly, but others evolve over years, as landowners think through all of the decisions involved in conserving a parcel. During that period, we honor the confidentiality of landowner information and relationships. Thus, the projects reported above are those that have received public funding or are associated with a public planning process, those where fundraising campaigns are underway.