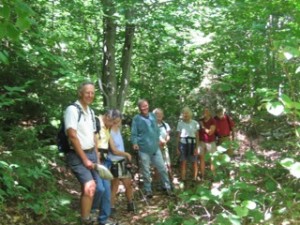 15 Ways You Can Advance Land Conservation
in the Upper Valley
We're a hardworking, homegrown group that depends on people like you. Over the past 34 years, we've protected over 500 parcels of land and more than 52,000 acres. Thousands of people have participated in these accomplishments and in the ongoing stewardship of conserved properties. It takes all of us, working together, to choose a vibrant, resilient and sustainable future for the Upper Valley — and to make it happen. Email ContactUs(at)uvlt.org to learn more and get involved.
1. Visit Conserved Lands
UVLT's volunteer Land Stewards enjoy walking conserved properties and help us meet one of our most fundamental obligations – the annual inspection of conserved lands. We provide training for Land Stewards at least once annually. Sign up now!
2. Be a Trail Runner
Like running in the woods? Take a hike or a run on our conserved trails and send us your field notes about trail conditions. Like what you see? Post a note and photos on Facebook!
3. Adopt a trail
UVLT local trail stewards "own" a trail by keeping trail routes well-marked and clear of fallen limbs, while consulting with UVLT about observations and other needs. Get your family and friends involved with the trail you adopt!
4. Bridges and Steps and…
Trailbuilding doesn't happen by itself! UVLT works with small groups of volunteers to help create or improve trails on UVLT-conserved lands where landowners have generously allowed for public access. No prior trail building experience is required – just your energy and enthusiasm!
5. A Picture is Worth…?
Are you good with a camera? Help us tell the story of the properties we own. Visit one of our Conservation Areas throughout the year to document seasonal changes, and public enjoyment. We'll put the postings on our website.
6. Connecticut River Campsites
Hundreds of paddlers enjoy UVLT's primitive campsites along the Connecticut River every spring, summer, and fall. If you'd like to help out with periodic campsite maintenance during the paddling season, or assist with special campsite improvement projects, contact us!
7. Hiking Helper
UVLT's field trips take many hands to organize! You can greet and sign in participants, "sweep" up at the back of a group hike, or help with shuttle service on one-way hikes or paddles.
8. What's next door?
Land conservation grows from one property to its neighbor. You can help us identify abutting parcels and their owners by collecting information from town tax maps, public lists, and records. We'll provide training about land records research and you'll be on your way!
9. Make it and Bake it
Trailbuilding crews, hikers, students and meeting-goers — it's all more fun when the food is good! If you enjoy baking and cooking and sharing your creations with others, let us know and we'll contact you when we need help baking cookies, preparing simple finger foods, or making chili and soup for meetings and events.
10. Keep us looking good!
Are an avid gardener, wood worker, or painter? Trail signs, kiosks, picnic tables, benches, gardens and yard care are fun endeavors that improve UVLT's appearance to the public! You can work independently or we'll help set up a group.
11. What Do You Know?
If you love being outside, share it! Amateur birders, naturalists, artists, historians, hikers, trackers, paddlers welcome…Lead a field trip for kids or adults to one of UVLT's conserved properties — a place you love or a place you'd like to get to know. UVLT staff provides logistical support, promotion, and registration.
12. Newsbeat
Do you subscribe to a local newspaper such as the Eagle Times, the Vermont Standard, or Littleton Courier? Do you view those papers online? You can help us stay on top of local coverage of UVLT projects and other conservation news by clipping and sending relevant articles or links.
13. At the Table and the Fair
Do you enjoy fairs, farmers' markets, and meeting people? Help us staff our information display as we travel through the Valley sharing the stories of our work. Do you have a booth at a fair or market? Bring a poster to indicate: "I support the Upper Valley Land Trust."
14. In your hometown
We have compelling materials to share. Help us distribute our Annual Report and informational brochures in racks at the library and local businesses. Want to do more? Work with your town library, service clubs, or conservation commission to schedule a program with UVLT staff — we've got beautiful slide shows and videos. You supply the venue!
15. _____________ (Your idea here)
Contactus(at)uvlt.org today to tell us how you can help!