Conservation Results: Members Count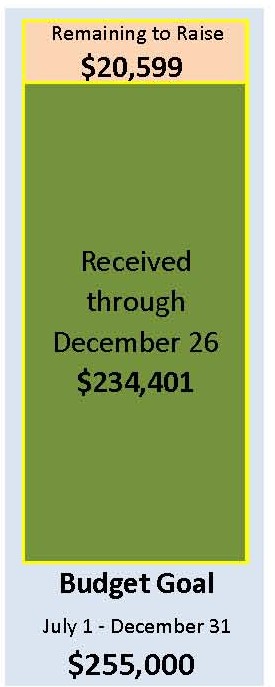 With just a few days remaining in 2013, we have $20,599 to raise in order to meet our budget goals for the first six months of our fiscal year. Just as important, we are seeking gifts from 61 more donors. We'd like to close the year with more than 800 members.

Who is a UVLT member? Anyone who makes a contribution of any amount to support UVLT. UVLT members include residents and local businesses in the 45 towns where we work. Members include people who enjoy visiting the area. Members include people who donate in honor of family and friends and the places they grew up. Members are people who value the rural landscape of the Upper Valley. Members are people like you!
Why are members important? Here are some of the figures:
739 Households and businesses have contributed thus far in 2013. Please help us reach 800 members by January 1!
$100 Median membership gift amount in 2013.
12 properties conserved thus far in 2013 – and we're not done yet! Three more projects will close before New Year's Day.
1 acre of land conserved for each $625 contributed by UVLT members in 2013. Many small gifts add up to lots of land conserved!
Make an Impact. Make a Gift. Together, UVLT members have conserved over 43,000 acres of land worth millions of dollars. Together, UVLT members can create a healthier, more beautiful, more hopeful future for the Upper Valley. We're counting on you! If you haven't yet made a gift in 2013, please join us.
http://uvlt.org/wp-content/uploads/2021/09/uvlt-logo-stacked.png
0
0
Jeanie McIntyre
http://uvlt.org/wp-content/uploads/2021/09/uvlt-logo-stacked.png
Jeanie McIntyre
2013-12-27 19:57:50
2014-02-19 01:36:39
Conservation Results: Members Count