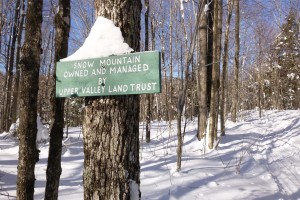 Peter Martin and Lynn Freeman began gifting 400 acres of forestland to UVLT more than a decade ago. First 25%, then more over the years until, earlier this month, the final gift was complete. UVLT is now the full and undivided owner of the land we know as the "Snow Mountain Conservation Area."
Over the years, as Peter and Lynn shared ownership with UVLT, our staff came to know and love the property. We hosted hikes and naturalist excursions there. We observed sign of numerous wildlife species, snowshoed to remote wetlands, witnessed the forest recovering from past ice storms, appreciated the relative scarcity of invasive plants. By the time we became full owners, this place was fully in our hearts.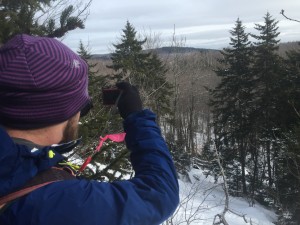 Snow Mountain is part of a large, undeveloped, unfragmented forest block. The mix of remoteness, extensive hardwood stands, old larger "legacy" or "wildlife" trees, many different wetland resources, and dense spruce cover has created ideal habitat for nearly all types of wildlife. The land was heavily cut in 1985, and has experienced 30 years of forest recovery, developing  into a young stand of approximately 328 acres of northern hardwood forest. A snowmobile trail traverses the property on the major logging haul road and that trail also ties into a much larger trail network on abutting land that is included in the book 50 More Hikes in New Hampshire.
The property contains an existing cell tower under long-term lease to a communications company, which will provide a stream of income for UVLT's stewardship and management of this important ecological area and support appropriate recreational and educational use.
The conservation of Snow Mountain enhances other conserved UVLT properties in the area including Leavitt Hill Wetland (90 acres) and Smith Pond Shaker Forest (995 acres). You are welcome to explore the property on foot, but there is not yet signage to direct hikers. To reach Snow Mountain, take Exit 15 off of I-89, and turn onto Old Route 10 going south. After a mile, just before the Upper Valley Humane Society, there is a pullout on the right. Park by the locked gate (but DON'T block the road) and walk in. Click for an simple map of the property.
https://uvlt.org/wp-content/uploads/2016/12/SnowMountainOnRocksSmall.jpg
1605
2408
Jeanie McIntyre
http://uvlt.org/wp-content/uploads/2021/09/uvlt-logo-stacked.png
Jeanie McIntyre
2016-12-14 12:48:47
2016-12-14 13:13:13
Snow Mountain – 100%!