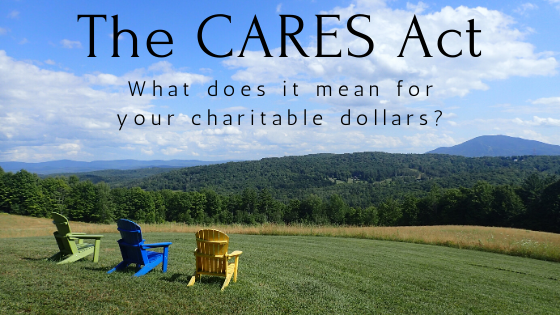 New Tax Rules for Charitable Giving
Though so much is uncertain now, one thing has not changed — most donors give from their hearts, responding to the needs they see. The reward donors seek is the difference they make. Tax rules are never a reason for making a gift, but in times like this, policymakers seek to add incentives for philanthropy. 
When the March 27 legislation known as the CARES Act was enacted, Congress included several tax provisions to encourage cash gifts to charities: 
Taxpayers who do not itemize their deductions can take a one-time deduction of up to $300 for an individual ($600 for a married couple) for gifts made to charitable organizations. It is an "above-the-line" adjustment to income that will reduce the donor's adjusted gross income (AGI) and thereby reduce taxable income. 

The law also lifts the existing cap on annual contributions for those who itemize, raising it from 60 percent of adjusted gross income to 100 percent (The 100% limit is reduced dollar-for-dollar by other itemized non-cash charitable deductions.)

These deductions are only available for gifts of cash made in calendar year 2020. The rules not cover other types of gifts such as real property. Contributions made to donor-advised funds or private foundations are not eligible.  
Also of note, Required Minimum Distributions (RMD's) from retirement plans, like IRA's qualified defined contribution plans, 403(b) plans, and 457(b) plans, that would have been required in 2020 can be delayed until 2021. Though the requirement is waived this year, donors who had planned to make a qualified charitable distribution (QCD) from their IRA in 2020 may still wish to do so. Making a QCD this year will still allow itemizers and non-itemizers alike to direct up to $100,000 from their IRA to charities in a tax efficient manner.
We encourage you to consult your tax professional to learn more about how these changes to the law may apply to your financial situation. 
And we thank you for your generosity. Yours are the gifts of clean water, local food, trails, wild places and the beauty of nature. Gifts of resilience and hope that are truly invaluable.
https://uvlt.org/wp-content/uploads/2020/05/CAREs-Act.png
315
560
Lorie Hood
http://uvlt.org/wp-content/uploads/2021/09/uvlt-logo-stacked.png
Lorie Hood
2020-05-13 14:46:41
2020-05-13 14:46:41
New Tax Rules for Charitable Giving