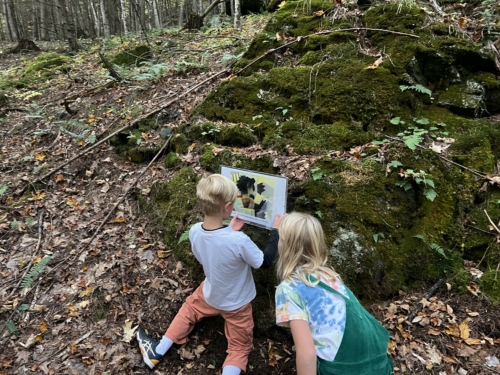 The Story Walk is an easy 1/2 mile out and back lollipop shaped loop that can be walked as an isolated hike or as part of a longer hike within the Lyme Hill Conservation Area trail network.
We hope you will join us to celebrate this exciting new family-friendly walk, and to read the first book on the trail, "Henry Climbs a Mountain" by D.B. Johnson. We'll kick things off at the trailhead on Route 10 at 1pm with a few remarks by project stakeholders and then head out to the trail!
None of this would have been possible without the incredible support from our community. Thanks to everyone that made a donation to this project and helped to raise the funds needed to bring this idea to life, and to the many hands that have both donated and helped along the way. These helping hands include:
The Lyme Foundation
Amy Haak (in memory of Barbara and Vail Haak)
Celdara Medical
Hypertherm
Upper Valley Trails Alliance
Eagle Scout candidate Jordan Davis (for building accessible picnic tables)
Lyme Converse Free Library
D.B. Johnson (Author, Henry Climbs a Mountain)
No registration required. See you on the trail!