Summer Thoughts: Reflections of a Patchen Miller Intern
With this year's Patchen Miller Internship open for applicants we wanted to share with you the thoughts of Ally Bernstein, last year's Intern.
"My original internship proposal was focused on one goal: I hoped to work with children and families to introduce the benefits of land conservation. Why conserve land? There are many answers to this question – we might wish to conserve resources for the future, or to protect habitat native species. But we can also develop a deep emotional attachment to the land, and there is so much to explore and enjoy. Together, we decided that making fairy houses and land sculptures would be a neat way to slow down, and ask kids to really observe and engage with nature.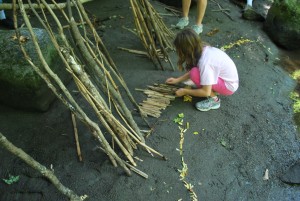 Organizing programs was occasionally stressful, because I worried that people wouldn't show up. What I eventually found is that entire networks of Upper Valley families would come to enjoy these events together. Watching children help each other and teach each other while enjoying the beautiful trails was its own enormous reward. I felt so lucky to have the opportunity to help families give something back to the land. I also loved bringing crafts to Farmer's Markets, and talking to passerby about the Land Trust – so many people feel strongly about conservation work and environmental education opportunities!"
~ Ally Bernstein, 2011 Patchen Miller Intern
http://uvlt.org/wp-content/uploads/2021/09/uvlt-logo-stacked.png
0
0
Jeanie McIntyre
http://uvlt.org/wp-content/uploads/2021/09/uvlt-logo-stacked.png
Jeanie McIntyre
2012-03-15 17:25:04
2013-12-21 19:36:03
Summer Thoughts: Reflections of a Patchen Miller Intern