Remembering Marion "Wiggy" Weathers Grassi
Remembering Marion "Wiggy" Weathers Grassi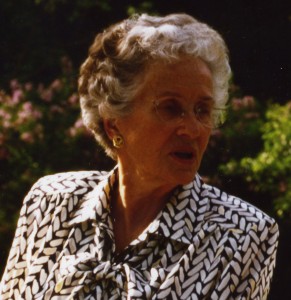 As I drove down Pinnacle Hill Road on my way from my house to UVLT's annual  meeting site last Wednesday, the sun was just beginning to poke through a heavy bank of clouds. It seemed like it had been raining for days and there was more rain in the forecast. I thought of Wiggy Grassi.
I knew that Wiggy, a dear friend of mine and UVLT's, would be thrilled by the new sign and trail improvements at the Lyme Hill Conservation Area where our meeting was to be held. She would cheer for UVLT's accomplishments and welcome friends to our celebration. But while our activities were unfolding, Wiggy's life was ending.
I didn't meet Wiggy until she moved to Kendal and joined UVLT in the 1990's. By then, her positive spirit was well established – she shared happiness and beauty with everyone she met. On UVLT's Board, she was very smart and gracious, fun-loving and deeply committed. She was passionate about UVLT's work and equally caring of those who carried out the work. She was part of our family.
One particularly dreary winter, Wiggy and I met to talk about an upcoming UVLT event. I made a comment about the weather – the kind of silly conversation filler folks are apt to exchange. Wiggy's response was gentle and sweet, but firm. She let me know that:
1) Winter is part of this place we love and it's beautiful
2) Whining about the weather (and complaining in general) is boring.
So, as I was driving down Pinnacle Hill Road last week, I was thinking that there might be rain at our Annual Meeting and how I could be glad for the hay crops growing by leaps each day, for the wetlands that hold and release moisture, for the forests of bright green. I could see the sparkles of precipitation on blades of grass, the ripples of drops on Post Pond. Take it in, enjoy it.
Wiggy lived each day I knew her with conscious appreciation. Her passion for land conservation was rooted in her love of life. Her 90+ years are a marvelous lesson in how to live.
Jeanie McIntyre, June 13, 2012
http://uvlt.org/wp-content/uploads/2021/09/uvlt-logo-stacked.png
0
0
Jeanie McIntyre
http://uvlt.org/wp-content/uploads/2021/09/uvlt-logo-stacked.png
Jeanie McIntyre
2012-06-13 17:01:38
2013-12-21 19:07:59
Remembering Marion "Wiggy" Weathers Grassi