Upper Valley Land Trust Celebrates 2000 More Acres Conserved & Elects Five to Board of Trustees
The Upper Valley Land Trust's annual celebration of land conservation drew nearly 150 people to UVLT's new Lyme Hill Conservation Area last week. All enjoyed hikes and bike rides, live music, good weather and good company as Upper Valley Land Trust shared the accomplishments of the year, honored our volunteers, and elected five new Trustees to the Board of Directors.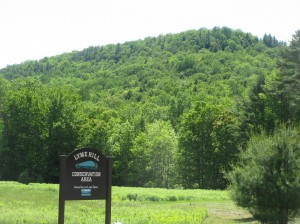 "We've just installed the sign and trailhead kiosk," said UVLT President, Jeanie McIntyre, who noted that the 237-acre Lyme Hill Conservation Area was acquired through gifts and purchases of eight parcels of land over a 20 year period. "This property exemplifies the partnerships, synergy, creativity and possibility in UVLT's conservation accomplishments. It's a great place for a thank you party," she said.
(Listen to UVLT President, Jeanie McIntyre's address along with a slideshow of our accomplishments by clicking here.)
Bob Wetzel, Chair of UVLT's Board of Trustees, announced that UVLT has conserved 2000 acres of land in the past year, and now stewards conservation protections on well over 40,000 acres of land. He thanked the many Upper Valley households and businesses who support UVLT, saying that land conservation contributes to the vibrancy and resilience of the Upper Valley.
The Ashley Advocate Award was presented to Willis Wood of Weathersfield in recognition of his outstanding leadership and neighborly outreach to educate landowners about conservation options. His efforts have resulted in the conservation of numerous significant parcels in Weathersfield and strong community support and understanding.
Peggy Willey of West Fairlee received the Patchen Miller Award which honors the memory of a young naturalist who loved exploring and sharing the world around him. Peggy Willey's enthusiasm for land stewardship and joy in supporting others as they learn about nature were recognized.
The UVLT members present elected five new Trustees:
• Tracy "Skip" Brown, a longtime Trustee of the Aloha Foundation, who currently serves as Chairman of the West Fairlee Planning Board, and runs the milfoil eradication program of the Lake Fairlee Association. Skip has extensive non-profit experience and a background in law.
• Tom Ciardelli, a retired biochemist and owner of a retail outfitting business. Tom and his wife donated a conservation easement on the 220-acre Sharon, VT property in 2000. He serves as a Trustee of the Center for Northern Woodlands Education and the Vermont Institute of Natural Science.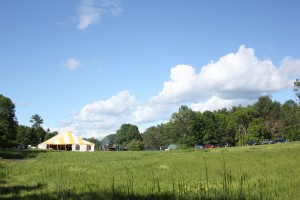 • Steve Fowler, an attorney currently "of-counsel" with the Concord law firm of Rath, Young, & Pignatelli, focusing on complex commercial real estate transactions and particularly alternative energy projects. Steve has served on the Hanover Board of Zoning Adjustment, the Board of the Society for the Protection of New Hampshire Forests, the Board of the Hanover Conservancy.
• June Hemberger, a former teacher, business owner and independent consultant focusing on team and leadership development and strategic planning. June currently serves on the Enfield Shaker Museum Board and is a past member of the Norwich School Board and the Proctor Academy Board. Her family conserved land on an island in Maine.
• Jim Reynolds, has spent over two decades in the financial services industry in asset management and private equity including at Fayez Sarofim & Co. and Fundamental Capital, in San Francisco.  Jim moved to the Upper Valley several years ago and is active here as a private investor. He is on the Board of Advisors for Norris Cotton Cancer Center and serves on the Affordable Housing Committee for the Town of Hanover.
UVLT Chairman Bob Wetzel recognized the leadership contributions of retiring Trustees Freda Swan, Kathy Larson, Charlotte Faulkner, Doug Loudon and Rick Roesch.
http://uvlt.org/wp-content/uploads/2021/09/uvlt-logo-stacked.png
0
0
Jeanie McIntyre
http://uvlt.org/wp-content/uploads/2021/09/uvlt-logo-stacked.png
Jeanie McIntyre
2012-06-15 16:35:17
2013-12-21 19:04:32
Upper Valley Land Trust Celebrates 2000 More Acres Conserved & Elects Five to Board of Trustees