Get Outdoors – Late Winter Calendar
6th Annual Snowshoe Hike to Bear Pond Sunday, February 9th, 1-5pm
Meet at the end of Hall Road, Canaan, NH (about 1/3 mile in from Route 4).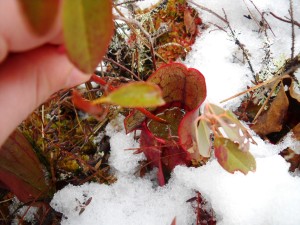 Come explore UVLT's largest protected property (over 900 acres!). Highlights include; Bear Pond itself, a kettle pond and associated 70 acre quaking bog; a former sand pit which is vital habitat to many unusual plants and animals, and a forested wetland with a 350 foot long beaver dam!
We'll walk a 3.75 mile loop and return for hot chocolate and treats. The trip will last about 4 hours. This event is being hosted by the Upper Valley Land Trust in partnership with the Mascoma Watershed Conservation Council. Wear warm clothing and bring a snack, water, snowshoes, and sunglasses! We will be starting along Hall Road, on privately owned conserved land. Registration is appreciated but not required. Contact Doug Brown at the Upper Valley Land Trust (603)643-6626 or email Doug with questions.
Cross Country Ski at the Dismal Swamp, Goose Pond Road, Hanover, February 21, 2:30 pm-5pm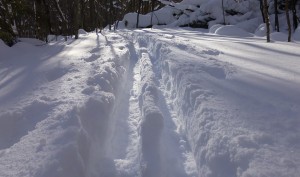 Got snow?  We hope so!  Join the Upper Valley Land Trust for some exploration at the UVLT-conserved  Dismal Swamp in Hanover.  It's been a low snow year, but we have it on good authority that we'll be getting some soon, so join us for this unique ski event!  While Dismal Swamp is surrounded by steeper hillsides, including the east side of Moose Mountain, we'll stay on trails where the terrain is flat to gently rolling hills.  We'll look for signs of animal use in late winter, and we'll enjoy the lengthening days!  Come on out on a Friday afternoon and play in the snow with us.  It may be the last chance this winter!  Oh, and in case you didn't know…..the Dismal Swamp is anything but dismal!
Please register by calling Lorie at 603-643-6626, or email Lorie, so that we may stay in touch about snow conditions and reach you if we need to reschedule.
Winter in the Woods Family Nature Hike, Saturday March 1, 1:30-3:30 p.m.
Explore the UVLT-conserved Jackson Conservation Area in Lebanon, NH and learn about wildlife in late winter. We'll go on a short, easy hike, look for animal signs and do some fun activities and crafts along the way. This event is designed to be family-friendly. Dress for the weather and be sure to wear boots. Bring a to-go mug to enjoy some hot chocolate at the end of the hike! Space is limited for this hike, so please register by calling Lorie at 603-643-6626, or email Lorie.
Sunrise Farm Open House and Sugarbush Hike, March 23.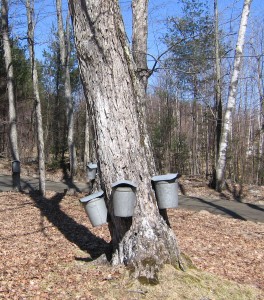 We're celebrating Vermont's Maple Open House Weekend at Sunrise Farm in Hartford. Watch the process of syrup production and learn about Community Supported Agriculture at Sunrise Farm — and hike the sugarbush and surrounding farm and forestland with UVLT staff. Details to be announced.
Fools in the Forest Family Nature Day, Sunday, March 30, 10 a.m.-2 p.m.
Celebrate the arrival of spring and April Fool's Day by heading to Lyme Hill Conservation Area on Rte. 10 in Lyme, NH for a day of fun and foolish nature-themed activities and games for the whole family. Learn the tricks wildlife use for surviving in our local habitats. Kids, grab your boots and bring your favorite adult. The event is open-house style and families can come and go as they please. Heavy rain will cancel this event.
…and coming in April: Training for Volunteer Easement Monitors. Saturday, April 12th, from 8:30am – 2:30pm. At UVLT office, located off Route 120, at 19 Buck Road in Hanover, NH
Land Stewards work with UVLT Stewardship staff to provide crucial assistance with field work—from meeting landowners of permanently conserved land, to hiking off-trail with map and compass to find property boundaries, to recording any man-made or natural changes in land use. Class size is limited and fills up early. More details and registration info.
http://uvlt.org/wp-content/uploads/2021/09/uvlt-logo-stacked.png
0
0
Jeanie McIntyre
http://uvlt.org/wp-content/uploads/2021/09/uvlt-logo-stacked.png
Jeanie McIntyre
2014-02-04 16:28:06
2014-02-23 20:13:37
Get Outdoors – Late Winter Calendar