We Welcome Anne Janeway, Andy Boyce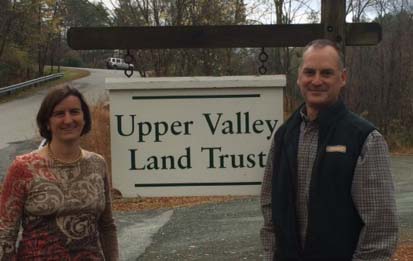 ANNE JANEWAY of Norwich and White River Junction, VT., has joined the Upper Valley Land Trust (UVLT) as development director. In this role, she is working to attract support for the organization through fundraising and stewarding of the organization's 1,000+ members and connecting with UVLT's network of donors, volunteers, and landowners to advance the conservation mission of the organization. She brings more than 20 years of experience in non-profit administration and fundraising to UVLT, with prior local experience working at Vermont Law School, Dartmouth College, and Kimball Union Academy. Most recently, Anne served as director of development at the Concord Community Music School.  She is a 1990 graduate of Middlebury College and a 1995 master's graduate of Suffolk University with a M.Ed. in administration.
Anne is a board member of the Green Mountain Club and a former board member of the Upper Valley Trails Alliance. She especially enjoys hiking and skiing and has hiked the highest 46 Adirondack peaks. As a lifelong outdoorswoman, she is passionate about preserving natural spaces and appreciates the many UVLT properties she has visited over the years. Anne has participated in many hikes led by UVLT staff and volunteers to conserved properties and is looking forward to further opportunities to share newly conserved lands. She is a 34-year resident of the Upper Valley and cites the quality of life and the scenic beauty and outdoor recreation opportunities available as key reasons to reside in the Upper Valley and participate in safeguarding the natural resources around us.
ANDY BOYCE is UVLT's Conservation Mapping and Field Specialist. He will evaluate and document natural resources on the lands UVLT conserves and will prepare maps for conservation planning and long-term protection. Prior to joining UVLT, Andy served as Trail Coordinator for the Rivendell Trails Association and Rivendell Interstate School District based in Orford, NH, where he has worked with educators to develop place-based curriculum units and has planned and supervised the Rivendell Student Trail Crew program each summer. He is a graduate of the University of Vermont School of Business Administration and has a Master of Science in Geography from Western Washington University. His technical background includes over 20 years of experience using Geographic Information Systems in natural resource assessment and teaching. Andy lives in Post Mills, Vermont.
http://uvlt.org/wp-content/uploads/2021/09/uvlt-logo-stacked.png
0
0
Jeanie McIntyre
http://uvlt.org/wp-content/uploads/2021/09/uvlt-logo-stacked.png
Jeanie McIntyre
2014-10-30 13:43:07
2014-11-28 14:30:27
We Welcome Anne Janeway, Andy Boyce