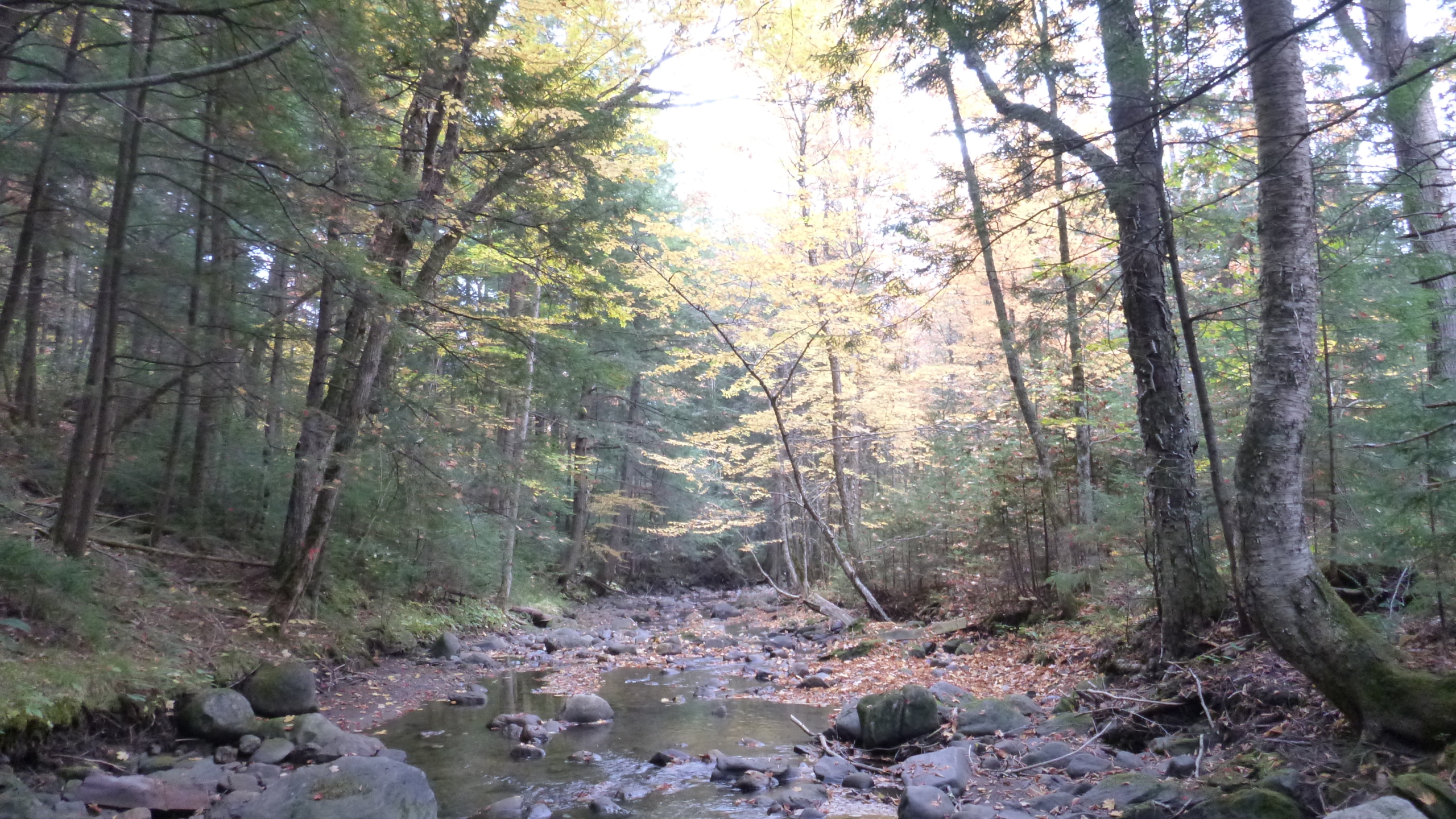 Headwaters Conservation Gets Results
This week the Upper Valley Land Trust (UVLT) and landowner Second Growth Holdings, LLC, signed documents to conserve 79 acres of open space that extends a corridor of permanently protected land and provides wildlife habitat and important buffers to Meadow Brook in Corinth. What made this project even more exciting was its place at the culmination of a multi-year series of conservation projects and partnership between the landowner, UVLT, and a local initiative called the Orange County Headwaters Project (OCHP).
This current effort began in 2008 when UVLT and OCHP conserved a large 346 acre property including working forest, rolling pastures, state-significant wetland, and important water features along Cookeville Brook with a grant from the Upper Connecticut River Mitigation & Enhancement Fund. Tom & Becky Loftus have since purchased the property from Second Growth Holdings, the initial conservation owner, as supporting acreage for their home farm in Cookeville; the fields now help nourish their dairy herd that produces the award-winning Blythedale Farm cheeses.
With funding remaining after this initial project, UVLT and OCHP sought other properties with similar conservation values – particularly the important water resources – and were successful in identifying multiple candidates for conservation.
UVLT purchased a conservation easement from Judith Taylor to conserve her 77 acres of woodland and wetland in the Ravenwood area of West Corinth two years ago. The Taylor property shares boundaries and a riparian connection to the original Second Growth Holdings property. Earlier this year, UVLT purchased another conservation easement from Second Growth Holdings on 230 acres of working woodland in southern Corinth. These forested slopes rise from nearly a half mile of frontage along Meadow Brook, a cold fast-flowing stream that cascades toward the South Branch of the Waits River.
Now, in a final phase with the original grant funding, UVLT has purchased a conservation easement from Second Growth Holdings that protects another 79 acres with an additional half mile of frontage on Meadow Brook.  Generously sold at a price lower than the appraised value, this easement serves to extend this corridor of conserved land from Chelsea Road to Hurricane Ridge and provide important forested buffers to both banks of the brook.
In sum, 732 acres have been conserved in Corinth through these continued efforts by UVLT and locals in the community, the partnership with the grant funder, and the commitment by these landowners. The conservation of these properties will ensure that 3.25 miles of headwater brooks flowing toward the Connecticut River remain healthy habitats for fish and fishermen, and 74 acres of wetlands will maintain their functions to improve the health of these water resources in our region.  The landowners will continue to manage the forests, harvesting timber selectively and sustainably, with care toward preserving the important natural resources, water quality, and wildlife diversity that these working lands provide to us all.
You can find a photo gallery of the OCHP projects below – click any photo to enlarge.
These conservation success stories were supported by a grant from the Upper Connecticut River Mitigation and Enhancement Fund, administered by the NH Charitable Foundation.  The Upper Valley Land Trust, a regional land conservancy serving 45 towns in Vermont and New Hampshire since 1986, works with willing landowners and our communities to protect special places and important natural resources for the future.  UVLT has now conserved 44,845 acres of land in the Upper Valley.
https://uvlt.org/wp-content/uploads/2014/10/SGH_Meadowbrook1_Walters_6_s_093014-scaled.jpg
1440
2560
Jeanie McIntyre
http://uvlt.org/wp-content/uploads/2021/09/uvlt-logo-stacked.png
Jeanie McIntyre
2014-10-10 15:36:30
2014-10-19 17:17:16
Headwaters Conservation Gets Results