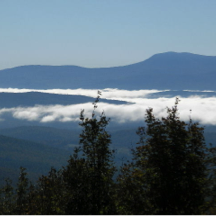 Perpetuity in Vermont: New Recommendations
VT Digger, an online news site, has published commentary by Vermont Law School professors John Echeverria and Janet Milne aimed at ensuring the perpetual nature of conservation easements. Their work was also featured in a Valley News front page story earlier this week.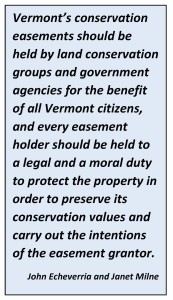 Echeverria's and Milne's work stems from legislative testimony in 2014 when a proposed law about modifying conservation easements was vigorously debated. Echeverria and Milne objected to the proposed law (which ultimately did not proceed*) and were asked if they would be willing to recommend an alternative. A website, Vermont Perpetual Easements, contains the results of their efforts: a summary of relevant law, guiding principles and recommended rules, standards and procedures. We note that the recommendations are similar in many ways to the practices of New Hampshire and Maine, where State Attorney General's Offices have an oversight role in protecting the public trust inherent in perpetual conservation easements.
UVLT agrees that statutes governing conservation easements should be strengthened and clarified. At present, a patchwork of legal regimes apply to Vermont conservation easement deeds. Property law, contract law and charitable gift laws all may be relevant in any given situation. For many landowners, the conservation easement is the single largest charitable gift they will ever make. Even landowners who are paid for their conservation easements give up significant opportunities for themselves and their heirs.  Voluntary land conservation cannot happen without a great amount of landowner trust — the landowners will not live forever to hold land trusts accountable to their promises. That's why judicial oversight of charitable gifts is important.
We welcome discussions about how best to ensure the integrity of Vermont conservation easements and safeguard the intentions and promises of landowners and land trusts so that land conservation gifts and investments are fully protected by state law.
*A summary of the law proposed in 2014 and UVLT's concerns about it is here.
https://uvlt.org/wp-content/uploads/2014/10/sallydrew1-e1413390740951.png
216
216
Jeanie McIntyre
http://uvlt.org/wp-content/uploads/2021/09/uvlt-logo-stacked.png
Jeanie McIntyre
2015-12-11 12:22:13
2015-12-11 12:22:13
Perpetuity in Vermont: New Recommendations