UVLT Annual Celebration
July 21st, 7pm
Virtually on Zoom

Join UVLT staff for our annual celebration of conservation in the Upper Valley. This year is a little different – we will be meeting you virtually on zoom. Staff members will be calling in live from different conservation areas throughout the Upper Valley and we encourage you to call in from your favorite outdoor place as well.
We will cover a short program with updates from staff on conservation activities across the valley. The rain date for this event is July 22nd.
If you would like to join us please RSVP by emailing contactus@uvlt.org. Once you RSVP you will receive the login info for the zoom call.
We can't wait to see you!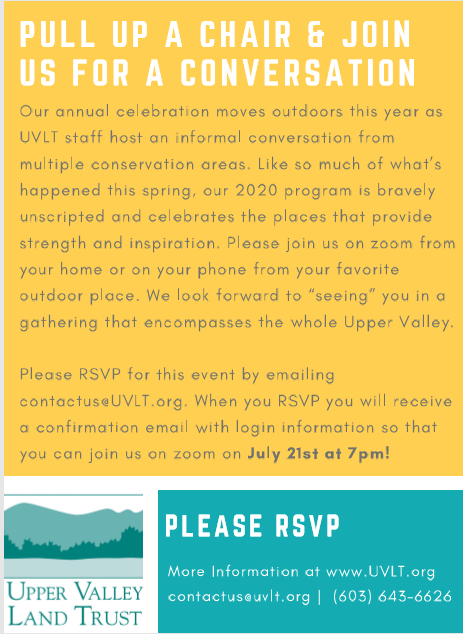 Mission Monarch at Up on the Hill
July 25th, 10am-12pm
Up on the Hill Conservation Area
Richardson Road
Charlestown, NH
Join Programs Director Alison and Sullivan County Conservation District Education and Outreach Specialist Dawn as they lead a program about monarch life cycles as part of the 2020 International Monarch Monitoring Blitz, July 24 – August 1!
During this event we will actively search milkweed plants for monarch eggs, caterpillars and adults.Observations will be recorded on data sheets and uploaded into the Mission Monarch database.
We will be socially distancing throughout this event and ask that you please wear a mask in order to participate. All equipment will be provided and most can be taken home with you. All equipment will be sanitized before hand and handled with care.
Please wear long pants and sunscreen/bugspray and bring water and some snacks. Bring your lunch and have a picnic afterwards if you like. See you there!
Directions: Route 12 in Charlestown to Morningside Lane , left onto Richardson Rd. May be gravel or dirt. Parking area at end. You will see a kiosk.
Due to an abundance of caution around Covid-19 space at this event is limited. Please register to attend, so we can prepare for proper social distancing. To register, email Alison Marchione at alison.marchione@uvlt.org. Call Dawn at 603.504.1004 with questions.