New Hampshire Partners with Land Trust to Conserve Farms, Natural Areas
The Plainfield Cider Orchard is the latest property to be conserved with assistance from a grant-making program of the State of NH. The New Hampshire Land and Community Heritage Investment Program (LCHIP) is an independent state authority that makes matching grants to NH communities and non-profits to conserve and preserve New Hampshire's most important natural, cultural and historic resources. Over the past ten years, the Upper Valley Land Trust has obtained funds for the conservation of 13 different parcels encompassing more than 2300 acres in seven Upper Valley Towns. Unfortunately, the Plainfield property may be one of the last, as LCHIP could be a casualty of the State's difficult budget situation.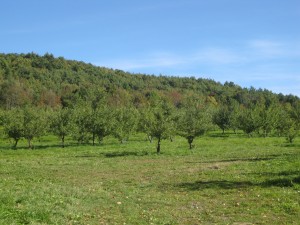 "The Land and Community Heritage Program is really important, "says Jeanie McIntyre, President of the Upper Valley Land Trust. "LCHIP investments enable the State to take a leadership role in prioritizing conservation resources that are important to all residents. While, there is no doubt that community members can be highly effective working at the grassroots level, there are also broader interests at stake. Having a program like LCHIP ensures that the State is part of the process and outcomes."
Conservation projects supported by LCHIP in the Upper Valley include working farmland in Piermont, Bath, Claremont and Haverhill and the protection of more than five miles of frontage on the Connecticut, Ammonoosuc, & Mascoma rivers. An LCHIP grant was awarded for the conservation of the 900+ acre Bear Pond property in Canaan, acquired by the Mascoma Watershed Conservation Council for management as a natural area. The Plainfield property includes land identified and mapped in the NH Wildlife Action Plan (2005) as Appalachian Oak-Pine forest, a forest community type that is of conservation concern in the state. The land is a part of a 3440 acre unfragmented forest block identified as a priority in the Wildlife Action Plan. "These properties illustrate the statewide significance of the resources LCHIP has prioritized in our region," says McIntyre.
A website maintained by LCHIP states: "Through this investment Program every $1 in resources brings back more than five times local, private, federal funds." The track record in the Upper Valley supports this finding. Projects receiving LCHIP funding have also been supported by local contributions, private foundations, municipal conservation funds and landowner bargain sales. "Some say that LCHIP's grants are relatively small and could be replaced if State funding were eliminated," says McIntyre, "But the importance of having the credibility and momentum that comes when the State is a partner, and the public/private collaboration that results, is often a critical element in the success of a project.
Statewide, LCHIP has provided $27.6 million to conservation and historic preservation projects since 2000, supporting 183 projects in 116 NH Towns. The program has been funded through a dedicated surcharge on recording deeds and through the sale of conservation license plates. Legislators will be taking a hard look at this and many other state programs as they attempt to balance the State's budget in the coming weeks and months. McIntyre says she hopes LCHIP can be sustained. "It really would be sad to have the State step away from land conservation," she says. "It's not just about the particular projects that won't be funded. It's also about whether New Hampshire, as a State, can find a way to continue to invest in the natural resources and environmental qualities that we need for our future."
Follow this link to learn more about the Economic Benefits of LCHIP: https://uvlt.org/docs/pdf/LCHIP%20Benefits%201%2018%2011.pdf
http://uvlt.org/wp-content/uploads/2021/09/uvlt-logo-stacked.png
0
0
Jeanie McIntyre
http://uvlt.org/wp-content/uploads/2021/09/uvlt-logo-stacked.png
Jeanie McIntyre
2010-12-23 20:52:49
2013-12-22 15:58:53
New Hampshire Partners with Land Trust to Conserve Farms, Natural Areas