Notes from the Field: Invasive Plant Prevention and Management Training
Morning fog was still settled in Thetford Center last week as a group of 49 foresters, loggers, land managers, conservation professionals, and interested landowners gathered at the Thetford Community Center to begin a day-long workshop on management strategies for non-native invasive plants found in our region. Run by the Vermont Chapter of the Nature Conservancy (VT TNC) and partners including the Upper Valley Land Trust (UVLT), Vermont Land Trust (VLT), VT Department of Forest Parks and Recreation (VT FPR), Redstart Consulting, and Polatin Ecological Services, the workshop began with an Invasive Plant ID "Pop Quiz" and proceeded with both indoor and outdoor sessions lead by project staff.
The workshop was geared primarily to land managers, with the goal of increasing awareness and knowledge of invasive species management techniques, so that such professionals can pass along the information to their clients, the landowners, as well as expand their skills to include invasive species control. "There is a lot of this work to be done, and not enough people incorporating it into their scope of services!" noted Courtney Haynes of Redstart Consulting which already provides such invasive species control services for landowners in the Upper Valley.
Increasing awareness through these workshops will benefit many beyond the participants themselves since information gathering and sharing is critical when facing threats such as the spread of invasive species. Presenters stressed that not only are there extensive ecological costs to invasive plants in forested landscapes, but also significant economic costs as these prolific plant species decrease the productivity in working woodlands and can have impressive negative impacts on regeneration of valuable tree species. With the knowledge gained through the training, and by using the tools provided during the workshop, land managers will be able to speak to landowners about effective management methods, and incorporate control measures when creating plans for a property.
While out-of-pocket costs for dealing with invasive species may seem high to landowners, the decrease in the long-term return on forest products caused by invasive plants can certainly outweigh the cost of treatment. Individuals from the Natural Resources Conservation Service (NRCS) were on hand to describe cost-share programs available to landowners to help cover costs of invasive species control on private land.
Back inside toward the end of the day, Chris Polatin gave a slideshow of invasive species treatment areas in central Massachusetts, describing mechanical treatments and chemical control methods, and then inviting participants to see some of the equipment used by his company following the workshop. During the final wrap-up, Markus Bradley of Redstart, noted that foresters and loggers shared the responsibility to put thought into every job and make invasive species control a consideration wherever they work,
"What our Vermont landscape grows well are trees, but we won't have forests to grow these trees if all we're regenerating are invasive plants!"
Participants, looking at the images from areas with dramatic infestations of certain invasive plants, nodded rather solemnly in agreement. It was clear, however, that everyone left the workshop with enhanced knowledge of best management practices for invasive species prevention and control, and a desire to put it to work for the benefit of the working landscape.
Those who attended the workshop went home with new materials developed by partner organizations Redstart, UVLT, VLT, VT TNC, VT FPR: a manual titled Best Management Practices for the Prevention and Treatment of Terrestrial Invasive Plants in Vermont Woodlands, and a Pocket Naturalist Guide to Invasive Terrestrial Plants of Vermont.
Both resources are highly informative and user-friendly, and each is available in hardcopy and summarized online at Vermont Invasives; a growing web resource which also includes many species-specific fact sheets with identification tools and control strategies. Land managers, landowners, and conservationists were encouraged to use the site and begin to contribute information to build upon the regional database of invasive plants.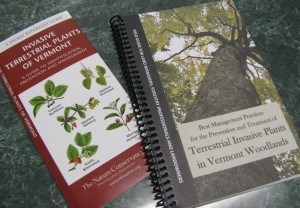 To learn more and find out about other upcoming invasives management training sessions (spots may still be open for Spring 2012!), click here to visit the VT TNC workshop schedule. Funding for the workshops and manuals was provided by a grant from National Fish and Wildlife Foundation's Pulling Together Initiative.
Special Note: This September 30th, dedicated volunteers from Hypertherm will be back for a third time to help us control invasive species on UVLT's Norwich Gateway property. Putting new knowledge to work, and continuing to improve our forests, one parcel at a time!
Sara Cavin, UVLT Project Manager
http://uvlt.org/wp-content/uploads/2021/09/uvlt-logo-stacked.png
0
0
Jeanie McIntyre
http://uvlt.org/wp-content/uploads/2021/09/uvlt-logo-stacked.png
Jeanie McIntyre
2011-09-29 17:21:21
2013-12-21 20:30:35
Notes from the Field: Invasive Plant Prevention and Management Training