A Piece of History Preserved in Canaan, NH
On December 16, the Upper Valley Land Trust and landowners Graham Colditz & Patti Cox conserved over 250 acres of scenic and productive land on South Road in Canaan, NH. Like many properties UVLT has protected, this land has deep roots in history. Every property has a story but the story of this land is particularly special. Its journey from early settlement in 1766 to its conservation in 2011 is traceable with an unusual amount of detail and continuity.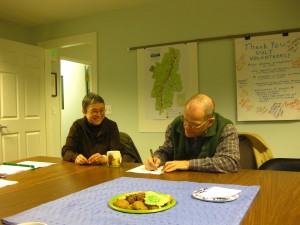 A large tract within this now-conserved property was granted to a gentleman named Thomas Miner in 1761 as one of the original 62 grantees named in the Town Charter from King George III to Governor Benning Wentworth; ultimately, Thomas Miner became one of the first people to permanently settle in that part of New Hampshire. Tired of life in the city, Miner gathered up his family in 1766 and left Norwich, Connecticut to head north to his land in Canaan. He described his thoughts of the new lands and the opportunities that stretched out before them in these quotes borrowed from the book History of Canaan, NH by William Allen Wallace, published in 1910:
I'm going to get out er this, and try the bears and wolves for neighbors, and live on fish and venison. This new road we are traveling is dotted all along with fragrant flowers, and the great trees, always stretching their long arms out before us, are calling us to our new destiny. We are started upon the long road. We are young, and life which a few months ago, seemed like an old wornout coat, now rises up all before us.~ Credited to Thomas Miner in History of Canaan, NH
Thomas Miner and his wife had seven more children in Canaan and lived to see the town grow around them. They are buried in the historic Cobble Cemetery which exists within the conserved property. Thomas Miner's grave is marked with a modern headstone commemorating his military service in the Revolution; the town places a flag at his grave every Memorial Day to honor that service.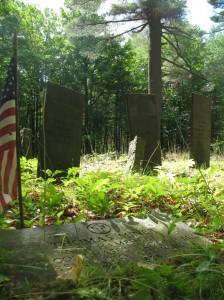 The historical farmstead has been restored by the current landowners and cattle still graze the fields. The forests are managed as a certified New Hampshire Tree Farm and streams that enter Gulf Brook and the Indian River add to the diversity and richness of the natural resources on the property. With proximity to other conserved and public lands, including Mount Cardigan State Park, this special place contributes to the traditional rural character of Canaan. Graham Colditz & Patti Cox are proud to conserve their property and ensure this land and its history remains intact as a place of inspiration and wonder for future generations.
http://uvlt.org/wp-content/uploads/2021/09/uvlt-logo-stacked.png
0
0
Jeanie McIntyre
http://uvlt.org/wp-content/uploads/2021/09/uvlt-logo-stacked.png
Jeanie McIntyre
2011-12-19 13:55:29
2021-01-13 17:57:06
A Piece of History Preserved in Canaan, NH