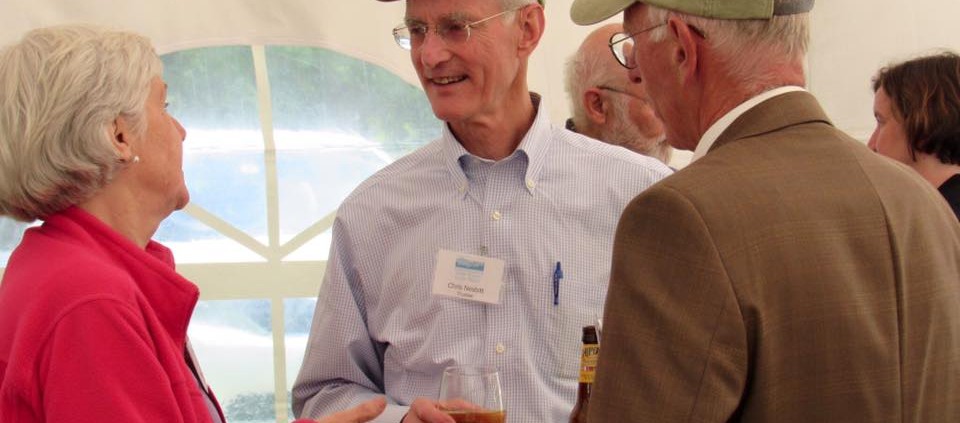 Celebration, Awards, Elections at UVLT Annual Meeting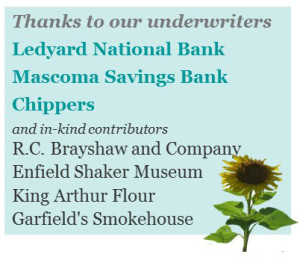 About 130 people turned out to celebrate and honor conservation leadership at UVLT's Annual Meeting on June 14th. UVLT's stewardship staff led hikes to Smith Pond and to the Shaker high meadow; guests enjoyed the grounds and toured the stone dwelling at the Enfield Shaker Museum; we shared good food, music and camaraderie on a lovely summer evening.
Photographer Jim Block was honored with the Patchen Miller Award. UVLT Stewardship Director Jason Berard explained, "Previous recipients have been teachers, farmers, foresters, naturalists, authors, community organizers, and field biologists. Each one exhibited a passion and a talent for connecting people to the natural world, just like Patchen did. This year, we give the Patchen Miller award to a person whose uses a different talent to connect people to the wondrous world we live in. His photography captures exquisite moments that happen all around us, if we only take the time to observe. Each photo shows just what an amazing world we live in, whether it was recorded at a little swamp in Thetford, or all the way across the world in Bhutan."
John Roe, VP Program and Operations, and Sara Cavin, Project Manager, presented an award to the Orford Conservation Commission for their extraordinary leadership in raising funds and building public support for the acquisition and protection of the 146-acre Mason Pond Conservation Area. John and Sara noted that one out of every eight households in Orford had contributed to the Commission's campaign which has won praise from the NH Land and Community Heritage Program and congratulations from the governor.
We also recognized artist Grace Cooper, who has generously donated proceeds from the sale of her lovely print "Smith Pond Daybreak" and UVLT Trustee Bob Wetzel, who has led UVLT in putting together the capital needed to proactively pursue high impact, high stakes conservation projects like Brookmead, Mason Pond and Smith Pond Shaker Forest.
For the Nominating Committee, Peg Merrens thanked retiring Trustees Reggie Greene and Chuck Wooster and presented the slate of candidates for election: Elena Mihaly and Stan Williams join as new Trustees, John Gerstmayr is elected following a midyear appointment, and Liz Russell, Nick Russell and Willis Wood return for second 3-year terms.
Jeanie McIntyre described 2016 as a year of innovation and continuity beginning with the acquisition of 352 acres in Norwich and the ongoing partnership with Vermont Technical College there. In all, UVLT has conserved over 3700 acres since the last annual meeting. This year, volunteers have contributed more than 1600 hours of service. Hundreds of people have contributed to fundraising campaigns for the places we've conserved and turned out for hikes, snowshoe trips, educational programs, and community celebrations.
We closed the meeting by showing "Conservation Solutions for Places You Love," a beautiful film by Jon Huberth that interviews six Upper Valley residents who have conserved their land with UVLT.
https://uvlt.org/wp-content/uploads/2016/06/AnnualMeeting2_n.jpg
720
960
Jeanie McIntyre
http://uvlt.org/wp-content/uploads/2021/09/uvlt-logo-stacked.png
Jeanie McIntyre
2016-06-20 21:50:45
2016-06-20 21:50:45
Celebration, Awards, Elections at UVLT Annual Meeting