Looking for Apples Starts a Lifelong Commitment
96 Acres Conserved in Tunbridge
In 1964, Herbert and Mary Ellen "Mel" Goertz went to pick apples in Tunbridge and ended up buying an old orchard. Fifty-two years later, they have conserved the place they fell in love with– 100 acres of forest and farmland, and heirloom apples.
The Goertz's property is located on a height of land near the border between Tunbridge and Strafford. From their open fields there are panoramic views of the Green Mountains, including Killington and Pico Peak. A neighbor's cows graze the pastures. In the woods are perennial and intermittent streams and dense clusters of yellow lady's slippers, a rare plant in Vermont.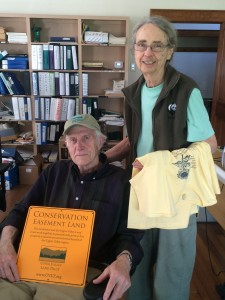 Also there are a couple hundred old apple trees in orchard rows set out more than a century ago. Though they no longer prune the trees, the orchard land has been maintained with routine mowing through the years. In the fall, Herbert and Mel pick apples, and a lucky visitor may be offered a glass of fresh pressed apple juice.
The Goertz land is part of an unfragmented forested block which provides important habitat not far from Taylor Valley and the Kibling Hill Wildlife Management Area. The Goertzs are hopeful that nearby parcels will also be conserved. UVLT is currently working with neighbors.
When they bought the land, Herbert was a relatively new economics professor at Dartmouth College and Mel was a graduate student in biology there. Over more than fifty years of ownership, they have observed and stewarded the land and it has given them much joy. When they signed their conservation easement deed, they put in place the permanent protection of a property they discovered by chance, made their home and now their legacy.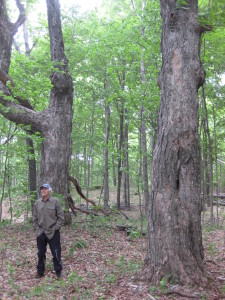 https://uvlt.org/wp-content/uploads/2016/06/Herbert-signs-scaled.jpg
2560
1920
Jeanie McIntyre
http://uvlt.org/wp-content/uploads/2021/09/uvlt-logo-stacked.png
Jeanie McIntyre
2016-06-29 11:42:41
2016-06-30 12:02:21
Looking for Apples Starts a Lifelong Commitment