A Place Where Past Is Present
On August 13, UVLT and the Orford Conservation Commission invite the public to celebrate and dedicate our 147-acre conservation area in Quinttown, Orford. This beautiful place has a rich history and we welcome you to join our festivities, enjoy the land and learn about its past. The information below was provided by Carl Schmidt as background for a July visit to the site by New Hampshire's Barn Committee Task Force, which will make recommendations about how we can sustain the buildings that help to tell the story of Quinttown and Billy Brown, who farmed there for much of the past century.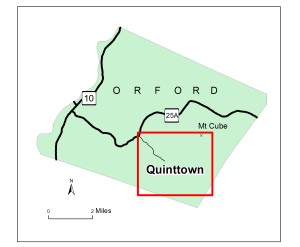 Where and What is Quinttown?
Quinttown is a large area in the southeast corner of Orford that has no specific boundaries other than bordering on remote parts of the towns of Lyme and Wentworth. In essence, Quinttown consists of a large upland valley and the slopes of mountains that almost completely embrace it, including Mt. Cube and Smarts and Stonehouse mountains. The Appalachian Trail crosses by on its eastern side.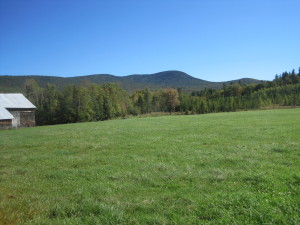 Quinttown is remote and — traveling by vehicle  — can only be reached by one narrow unpaved Class V Town road leading off from Rte. 25A. Quinttown was once a classic hill-farm settlement such as those found in many New Hampshire communities in the 18th and 19th centuries.  At one time, in the 1860s, nearly 200 people lived in Quinttown and it could be described as a thriving community.  And yet today, there is only one family living full-time there.
And where does the name Quinttown come from?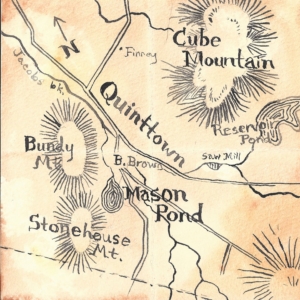 The township of Orford was created in 1761 by Royal Governor Benning Wentworth and permanent settlement by colonists first began along the Connecticut River in 1765.  In the early years, the town's population grew rapidly – as it did in other Upper Valley New Hampshire towns.  Within 15 years, by the late 1770s, settlers began moving eastward, away from the river, to find places to live.  They cut and cleared the deep virgin forests to establish hill farms on the sunny south-facing slopes of hills further east into what became known as Quinttown. These "hill farmers" often were at least partly motivated by the belief that it was unhealthy to live down among the river fogs and "vapors" that were thought to breed disease.
In 1788, Orford's original 63 Proprietors, who virtually all were absentee landowners living down on the seacoast, voted to grant 50 acres of undivided land to a Portsmouth sailor and Revolutionary War hero named Benjamin Quint, who had served with John Paul Jones.  As one of the earliest settlers in the new area, the name stuck, although some old documents record the name as two words:  Quint Town.  Census records for 1840 show that there were as many as seven separate Quint households in Quinttown.
What happened?  What caused the rise and decline of Quinttown?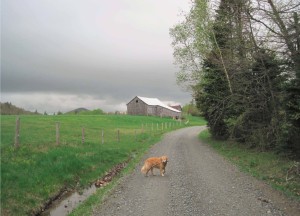 Life in Quinttown in those early years focused on clearing the land with the help of teams of oxen, harvesting timber, and subsistence farming, with crops of Indian corn, potatoes, and grains grown essentially for the settlers' own consumption.  Sawmills were built on Jacob's Brook and its Quinttown tributary, and limestone deposits near the western slopes of Mt. Cube gave rise to small-scale production of lime.
At the same time, the overall population of the town of Orford grew rapidly during the early years of the 19th Century — reaching an all-time high of almost 2,000 inhabitants in 1830. This was the result of several factors:  highly productive farms concentrated near the Connecticut River; the "sheep boom" for wool production; light manufacturing at numerous water-powered mills centered around Orfordville; and commerce generated by the creation of the Grafton Turnpike, which had its northern terminus in Orford at the Connecticut River crossing.
But then, the population began to decline, as it also did in other Upper Valley towns along the river and beyond.  The causes for this were several:  the strong attraction to "Go West" to begin farming land described as having "unsurpassed fertility", "inexhaustible depth" and no stones;  the end of "the great sheep boom";  the declining productivity of hill farms;  and the attraction, especially among young women, to get away and work in the rapidly growing textile and other large mills in cities such as Manchester and Nashua.
By 1860, about 20 percent of Orford's population lived in Quinttown, but it also began to drop steadily from that point onward.  As Quinttown's population continued to decline in the last quarter of the 19th century, logging became a major part of employment and life there.  From the 1870s through the 1890s, as many as 200 "choppers", or woodsmen, and teamsters with 100 teams of horses or yokes of oxen spent the winters working there, felling and then hauling logs over snow-packed roads to local mills or to the Connecticut River.  Logs were piled on the riverbank and then rolled into the river in the spring, to be floated down to Olcott Falls (now Wilder, Vermont).
There were also two or three sawmills in the area then, with sawn lumber sawn often hauled to the railroad depot in Fairlee, Vermont, for onward shipment.  And for many years, firewood was sold from Quinttown to Orford customers.  Boarding houses were associated with sawmills and logging camps were also used from the 1890s on into the 1930s.  Orford resident Charles Smith, for example, recalls that his father, Alan Smith, built at least six logging camps in Quinttown in the early 1930s while his mother, Siltonia, worked as a camp cook.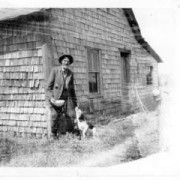 However, by the mid-1930s, there were almost no remaining residents of Quinttown, but a substantial number of abandoned farms.  In 1935, for example, a Dartmouth student wrote in his Senior Honors Thesis that, based on his extensive field research, only three families were living in Quinttown throughout the year. Among them was "William Brown." The student recorded that Billy Brown had a yoke of oxen, 5 or 6 cows, and the only horse in Quinttown. Brown singlehandedly farmed 147 acres he'd bought in 1915 and named Mountain View Farm. After Brown's death in 1968, his farm was acquired by  David and John Bischoff. In April 2016,  the Bischoffs, the Orford Conservation Commission and UVLT came together to conserve the property which is now owned by UVLT.
https://uvlt.org/wp-content/uploads/2016/07/Johns-iphone-import-7-14-16-202-scaled.jpg
1920
2560
Jeanie McIntyre
http://uvlt.org/wp-content/uploads/2021/09/uvlt-logo-stacked.png
Jeanie McIntyre
2016-07-18 16:44:29
2016-10-13 09:01:04
A Place Where Past Is Present