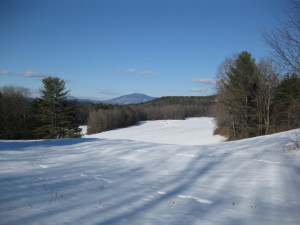 Years ago, Harvey Hill's family was living in a farmhouse on Route 12-A in Charlestown following a fire that destroyed their home and barn several miles away. The land they had left remained dear to the family, and Harvey's father returned often to work the farm fields and manage the forest. Explaining his destination, he would say: "I'm going up on the hill."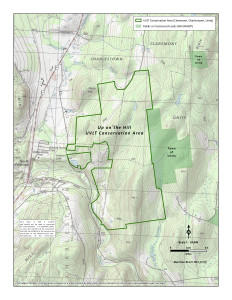 Eventually Harvey came to own the land on the hill and he married Christina, who had grown up on the farm next door.  They acquired adjacent land until their property encompassed over 1200 acres. In December, they, and Harvey's son Scott, donated 1100 acres of their land to UVLT.
UVLT's newest conservation area, "Up on the Hill" stretches from Morningside Lane in Charlestown to Sawyers Brook in Unity, with the most northeasterly portion of the property located in southwest Claremont. It is mostly forested with high quality timber stands. There are several large hayfields managed by local farmer, Gary LeClair; also wetlands, streams, and several vernal pools that serve as habitat to wildlife and birds. A large breached beaver pond lies in the northern portion of the property and a perennial stream flows towards the Little Sugar River.  Sawyer Brook flows through the southeastern portion of the property. Nearly half of the property has been ranked as highest quality habitat in the State or region by the NH Wildlife Action Plan.
The Hills have given UVLT a forest that is healthy and well managed and not needing repair or recovery time. It will provide income over many years from sustainable timber harvests and enable us to engage and educate the public about forest stewardship. Â Through a cooperative agreement, the Hills will continue to oversee sustainable management of the property and proceeds from future timber harvests will create a management fund for the property for long-term stewardship of the land.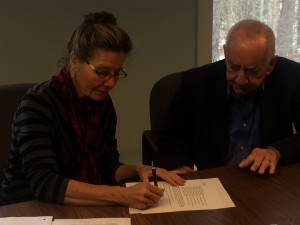 Christina and Harvey Hill continue to own their home on a parcel adjacent to the gifted land. Through their generosity, UVLT will benefit from getting to know the property gradually, easing into the management decisions, advised by capable and knowledgeable land managers who love the property and can share with us all that is special about the land.
https://uvlt.org/wp-content/uploads/2017/03/IMG_0022-scaled.jpg
1920
2560
Jeanie McIntyre
http://uvlt.org/wp-content/uploads/2021/09/uvlt-logo-stacked.png
Jeanie McIntyre
2017-03-16 10:19:09
2017-03-16 10:19:09
Hills Donate 1100-Acre Conservation Area "Up On the Hill"