Another Successful Year in the Food Pantry Garden
The final day of harvest at the Brookmead Food Pantry Garden was a gleaning day with Willing Hands. It air was crisp, the soil was wet, and we worked hard to pull another 400 pounds of carrots from the earth. 2021 was another year of surprises both in and out of the garden. From challenging weather, to fewer volunteers, to expansions at Brookmead and a new garden in Charlestown, NH, we accepted the challenges the year presented and prevailed.
With the pandemic still ongoing as we moved into April 2021, UVLT staff and volunteers tackled the new season while still taking all necessary precautions. The goal to expand both the Brookmead garden to incorporate a new plot near the conservation area parking lot and create an entirely new garden at our Up on the Hill Conservation Area in Charlestown, NH were the first priorities on our lists for the new year.
These goals were met with the help of a small group of very dedicated volunteers as well as assistance from corporate and school groups. Volunteers came out weekly or on their own time to pull weeds, plant seeds, and harvest vegetables while groups from Red River, Bio X Cell, and campers from YMCA Camp Coniston worked with us on special projects.
At the Brookmead garden, we expanded to include a new plot near the conservation area parking lot. This plot was mainly used for potatoes, a crop rotation necessary to avoid large losses to Colorado potato beetles. From that small plot we harvested over 700 pounds of potatoes to go to Willing Hands. We also planted our Abenaki Land Link Crops here, three kinds of dry beans and Algonquin squash. These vegetables were returned to the Nulhegan Band of the Coosuk Abenaki Nation to feed their people and save seeds for next year.
At the main garden plot we added cold season leafy greens like spinach and collards, and planted many rows of fall lettuce. We also harvested 1,000 pounds of winter squash, almost 300 pounds of spinach, and 500 pounds of carrots. In total, the Brookmead Garden produced 4,459 pounds of fresh nutritious vegetables that were donated to Willing Hands and the Abenaki Nation to go to those who are food insecure.
The inaugural year of the Up on the Hill garden was also a success! Despite a somewhat late start to the season we were able to produce a great harvest for the Claremont Soup Kitchen and Food Pantry. We harvested over 700 pounds of beautiful tomatoes, summer squashes, potatoes, peppers, and eggplant.
Now things in the gardens are buttoned up for winter and we will spend our time dreaming about seed orders and spring time. Next season will undoubtedly bring new challenges and opportunities. We hope that you will join us out there on the land. You can read more about volunteering with the garden program here.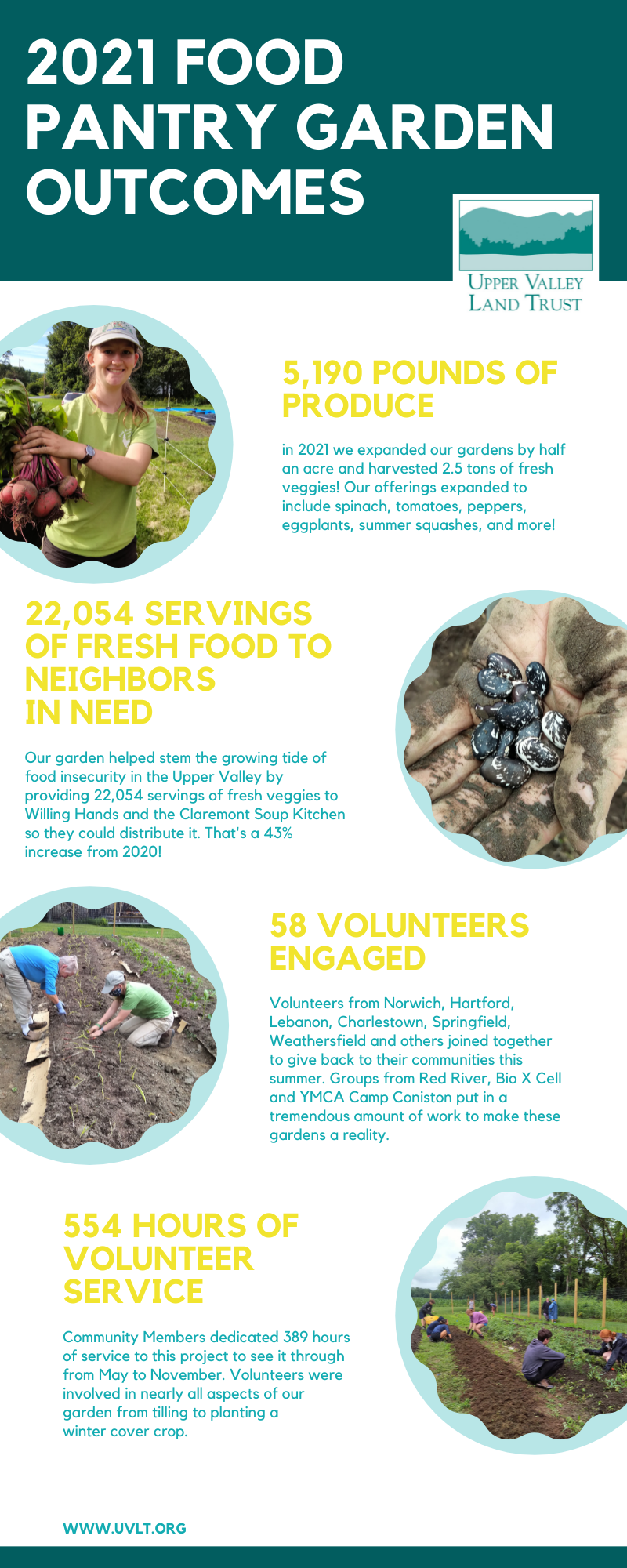 https://uvlt.org/wp-content/uploads/2021/10/IMG_20210601_1817043-scaled.jpg
2560
1707
Lorie Hood
http://uvlt.org/wp-content/uploads/2021/09/uvlt-logo-stacked.png
Lorie Hood
2021-12-13 20:50:29
2021-12-13 20:50:29
Another Successful Year in the Food Pantry Garden