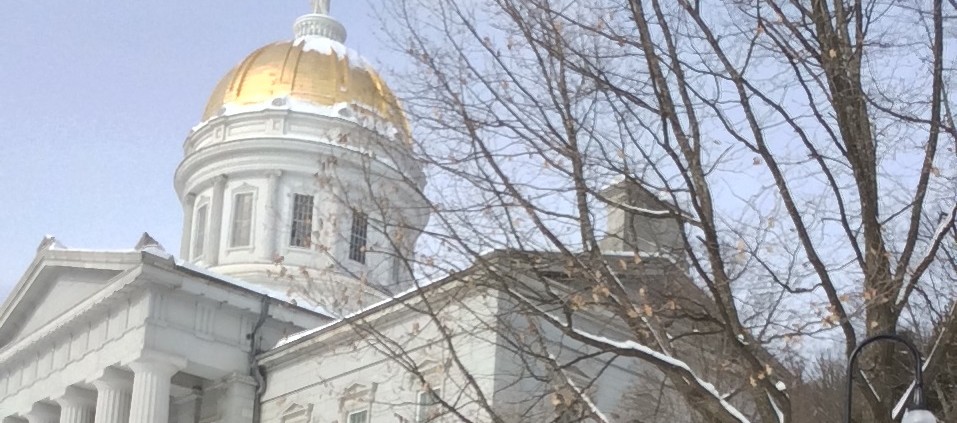 UVLT Staff Participates in VHCC Legislative Day to Advocate for Conservation Funding
On Friday, February 9th, UVLT staff members John Roe, Robin Kilfeather-Mackey, Megan Chapman, and Craig Privett attended the 2018 Vermont Housing and Conservation Coalition (VHCC) Legislative Day held at the Vermont Statehouse to champion the projects and values supported by Vermont Housing & Conservation Board funding of which UVLT is a recipient.
(Early Morning views of the Vermont Statehouse in Montpelier)
Staff members were able to meet and speak with several legislators from within UVLT's service area to request that they approve the funding of the Vermont Housing and Conservation Board (VHCB) at the statutorily required level of $20.4 million. UVLT staff and trustee Elena Mihaly, who was also in attendance, met directly with legislators to advocate for VHCB funding by highlighting recently closed projects, for which VHCB funding was crucial.
VHCB funding supports important conservation work that UVLT does in Vermont. With proper funding, UVLT and other conservation organizations across the state will be able to move forward with projects that will improve water quality and reduce flood damage, ensure traditional public access to recreation and trails, protect farms and farm access for new generations of farmers, boost the working farm and forest economy, and conserve critical habitat for wildlife.
(Governor Phil Scott, speaking during the welcome session)
UVLT staff attended a "Welcome Session" where they were greeted by Governor Phil Scott, Lt. Governor Dave Zuckerman, Senate President Pro Tem Tim Ashe, House Speaker Mitzi Johnson, Senate Appropriations Chair Jane Kitchell, and House Appropriations Chair Kitty Toll. They discussed a variety of topics including: the hollowing out of rural America, green open spaces and working landscapes, intergenerational farm transfers, the ecological importance of conservation. All legislators present expressed their steadfast support for the conservation work that takes place in Vermont, while also acknowledging some of the budgetary challenges they're facing this legislative session.
(West Windsor Resident Laura Stillson testifying)
The highlight of UVLT's day came when staff was able to sit in for the Joint meeting of Senate and House Committees on Economic Development and Housing where West Windsor resident Laura Stillson gave an emotionally rousing testimony that detailed the extent to which the success of the 1,600 acre conservation project, which is now permanently protected by a UVLT easement, on the slopes of Mount Ascutney at the West Windsor Town Forest has been revitalizing her town. This conservation easement links together and protects an ecological hotspot, a significant trail network and public drinking water. Laura stressed how the project has created an opportunity for the town to craft a new vision for its future and sustainably diversifying the Town's recreational opportunities for residents and visitors. Her words showed the legislators in the room that the funding for VHCB does not just impact the organizations or landowners whose projects receive funding, but can restore a sense of pride and confidence in an entire community.
(UVLT Staff on the Statehouse Steps. L to R: Craig Privett, Conservation Project Assistant, Megan Chapman, Conservation Project Manager, John Roe, Vice President Stewardship & Strategic Initiatives, Robin Kilfeather-Mackey, Vice President of Operations)
https://uvlt.org/wp-content/uploads/2018/02/IMG_6004.jpg
559
957
Jeanie McIntyre
http://uvlt.org/wp-content/uploads/2021/09/uvlt-logo-stacked.png
Jeanie McIntyre
2018-02-16 15:11:40
2018-02-16 15:16:08
UVLT Staff Participates in VHCC Legislative Day to Advocate for Conservation Funding