One Year Later – Manning Farm Represents Community Fundraising Success
For 50 years, Roscoe and Ruth Manning owned their iconic family farm on Robinson Road. After their deaths, three of their children – Eric and Dennis Manning and Carol (Manning) Boles — took up stewardship of the farm. In recent years, the hayfields and pastures have fed the cattle of Rockbottom Farm providing milk for the Strafford Organic Creamery.
Last fall, the Upper Valley Land Trust (UVLT) helped the Manning siblings and Earl Ransom arrange a future that will keep the land in farming. The Mannings sold a conservation easement to UVLT and simultaneously sold the conserved land to Earl Ransom. A conservation easement is a deed that permanently restricts how a parcel of land can be used – allowing commercial agriculture and forestry, but prohibiting conversions to residential development, mining or subdivision.
To pay for the purchase of the conservation easement, UVLT pledged $282,000 it had raised through a region-wide capital campaign to support "transformative" land conservation projects. There was no doubt conservation of this land met the "transformative" criteria. The 382 acre farm has a mile and a half of scenic, pastoral road frontage on Robinson Road and three miles of streams, including Fay Brook. The land includes productive hayland, pasture, and working forest. It sits within the area identified for acquisition by the New Vistas project, raising local concerns about potential development. And it supports a local business making the best ice cream in the Upper Valley!
All that was needed was $26,000, just under 10% of the project cost. In December, UVLT mailed a fundraising letter to residents of Strafford, South Strafford, Thetford, and Sharon asking the community for help.
The response to UVLT's request was impressive! The Alliance for VT Communities had offered a matching challenge of $10,000 and in only a few weeks $16,000 more was donated. Sixty households participated.  Because of this strong local engagement, the land has been protected forever.  One of the Upper Valley's most popular farm brands owns land it needs to keep thriving.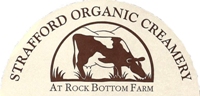 What a difference a year makes! Earl Ransom has plans to build a new barn to shelter his cows on the property. The Alliance for Vermont Communities is working with the Upper Valley Trails Alliance to develop plans for a trail. The New Vistas initiative is evolving and possibly bringing new opportunities for community discussion about conservation, economic opportunity, and community development. UVLT has committed its capital campaign funds to several new projects throughout the Upper Valley, including the conservation of grassland and wetland habitat, working forest, and several farms.
UVLT is grateful to the Manning family, Earl Ransom and Amy Huyffer of Rockbottom Farm and Strafford Creamery, members of the Strafford Conservation Commission, the Alliance for Vermont Communities, and the many community members who, through their donations, joined in acting for a greener future for the place we call home.
To learn more about UVLT's mission, current projects and its Fund for Conservation Action campaign, contact: jeanie.mcintyre@UVLT.org
https://uvlt.org/wp-content/uploads/2018/10/7D_070817_Manning-Boles_7387-7394-scaled.jpg
791
2560
Jeanie McIntyre
http://uvlt.org/wp-content/uploads/2021/09/uvlt-logo-stacked.png
Jeanie McIntyre
2018-10-09 16:34:42
2019-01-18 12:22:29
One Year Later – Manning Farm Represents Community Fundraising Success