Hypertherm Workday at Lyme Hill May 25, 2012
The last Friday of May dawned a bit drizzly, but the clouds, occasional showers, and occasional ticks did not slow down the determined work effort by 16 Hypertherm Associates who volunteered their time to help UVLT staff create a trail connection from its recently established parking and access area at the Lyme Hill Conservation Area just off Route 10, in Lyme, NH.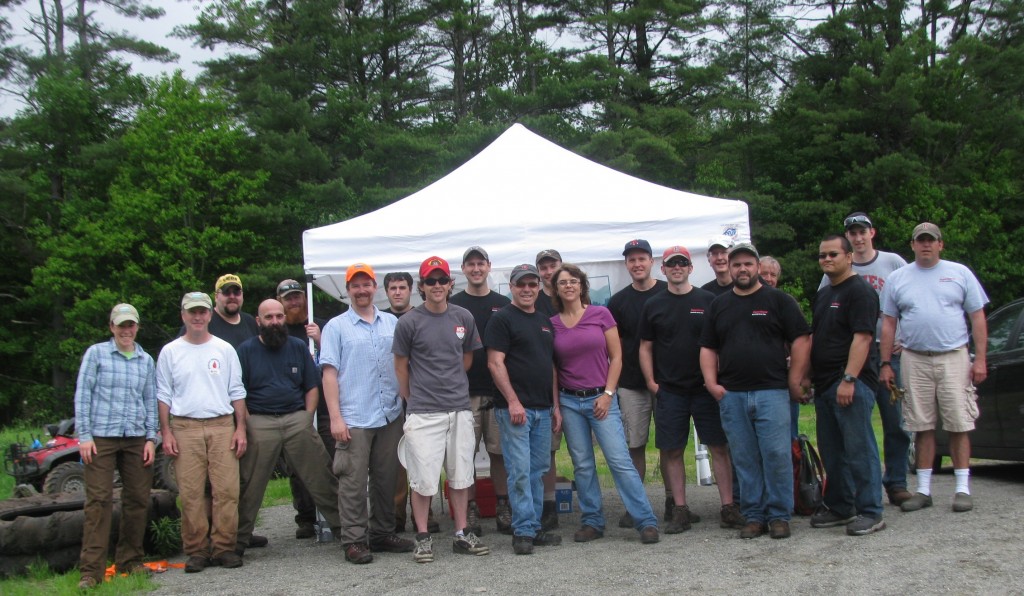 UVLT hosted its Land Conservation Celebration and Annual Meeting at its Lyme Hill site on Wednesday, June 6 (learn more here) which made this Hypertherm workday particularly well-timed. Hikers and other visitors will now find cleared trails, including a nice wide mulched path from the parking area out to the forest, a pair of newly-constructed bog bridges, many fewer invasive honeysuckle shrubs along the forest edge, and relaxing spaces to take in views over the brook and near the summit of Lyme Hill. It was astounding how much work got done, and Pete, Jason, and Sara (and the rest of us at UVLT!) want to send thanks out to Hypertherm for giving their Associates the opportunities to give back to groups like us for the benefit of our communities!  While sharing stories over shovel-fulls of mulch, while sawing and lopping, and while wrestling with weed wrenches, we laughed, groaned about aches and pains (Pete, mostly), and learned a lot about how people, pitching in together at work or in the field, help to build community.
The Lyme Hill Conservation Area is a 237 acre property owned by UVLT and adjacent to another 152 acres of privately-owned conserved land, just south of Lyme Village between Route 10 and River Road.  Existing trails provide ample opportunities for outdoor endeavors and many other works-in-progress should enhance visitor experiences in the near future.  If you are interested in volunteering with projects that UVLT will have ongoing at this site or any of our conservation areas, please contact Pete Helm or Jason Berard.  It feels good to give back!
And, of course, next time you're looking for a great place to explore with family or friends, consider a trip to this special property which will continue to evolve as an exceptional place to learn, play and celebrate the land we all love in the Upper Valley.
See a slideshow of their work here!
http://uvlt.org/wp-content/uploads/2021/09/uvlt-logo-stacked.png
0
0
Jeanie McIntyre
http://uvlt.org/wp-content/uploads/2021/09/uvlt-logo-stacked.png
Jeanie McIntyre
2012-06-12 14:04:28
2013-12-21 19:18:44
Hypertherm Workday at Lyme Hill May 25, 2012