New Memorial Bench at the top of Pinnacle in Lyme in Remembrance of Alan Hewitt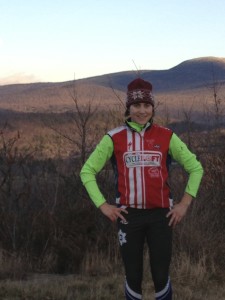 November 12, 2013
Rosalie Lipfert is a freelance writer, researcher and outdoor enthusiast. She visited Pinnacle Hill in Lyme and shares this story about the bench recently installed in memory of Alan Hewitt who generously cared for the people and places of Lyme. 
         
According to Dan Freihofer, "Alan Hewitt was one of my best friends."  Alan (Al) died in 2010 from a heart attack caused by a congenital condition he had been living with his whole life.  "And a full life he had," wrote Dan. "A loving marriage, two wonderful daughters, a fulfilling career as a chemist at CRREL, and a full range of civic engagement including a long tenure on the Lyme Conservation Commission."
When Al died, his widow Sue decided to spend the money from memorial contributions to create a fund that purchases cordwood every year, which several community members cut, split, and deliver to needy families in Lyme. (Sue gives much credit for this endeavor's success to the energy and enthusiasm Dan pours into the wood project each year).
In addition to the wood project, some of Al's beloved friends (and he had many) commissioned a bench. Originally, Sue wished for the bench to be placed down at Post Pond, one of Al's favorite spots, but installation was delayed by the construction that took place there these past few years.  But one day about 3 weeks ago, Sue was hiking the Pinnacle (another one of Al's favorites) when the idea occurred to her to place the bench up there instead. The owner of this parcel of land, Hellen Darion, as well as the Upper Valley Land Trust, which holds a conservation easement and trail easement, were contacted and agreed. The bench installation was in order.
The next time you are in Lyme with an hour or two to spend and a craving for ascending the challenging but friendly Pinnacle climb, know that you will have a place to rest once at the top. Whether you knew Al or not, the bench that acts as his memorial allows you to gaze out in one direction towards the Connecticut River Valley and the hillsides of Vermont, or to turn 180 degrees and become mesmerized by iconic Smarts Mountain with its softly-curved summit. And more importantly, the bench allows you to sit within the silent peace of the New Hampshire woods, remembering Al, or meditating on any thoughts that pass by during your Pinnacle hike.
http://uvlt.org/wp-content/uploads/2021/09/uvlt-logo-stacked.png
0
0
Jeanie McIntyre
http://uvlt.org/wp-content/uploads/2021/09/uvlt-logo-stacked.png
Jeanie McIntyre
2013-11-12 14:44:51
2013-12-21 14:37:51
New Memorial Bench at the top of Pinnacle in Lyme in Remembrance of Alan Hewitt