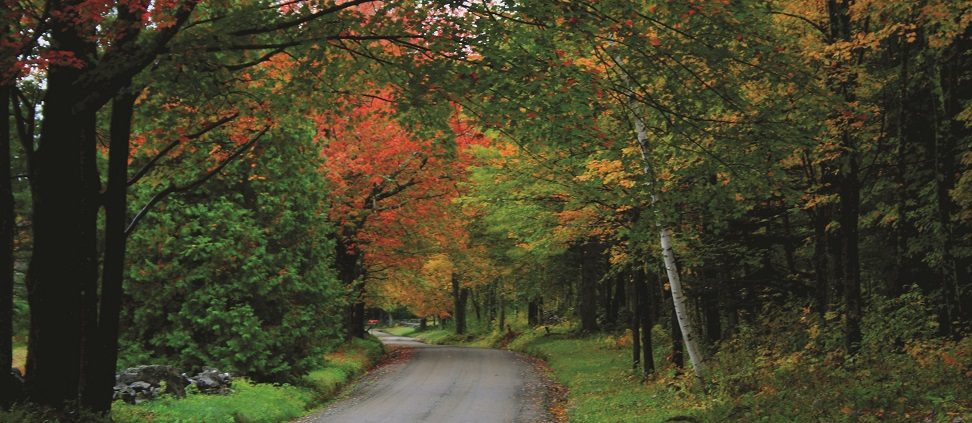 Commemorating a Historic Land Conservation Achievement and Remembering Freda Swan
Breck Hill Road, in Lyme, is one of the Town's prettiest roads. Open fields slope away from the hilltop providing lovely views. Old maple trees and stonewalls line the edge of the road. It's a place where history speaks – the history of a town, and the history of land conservation too.
More than 30 years ago, a remarkable neighborhood effort, led by a remarkable Breck Hill resident, led to the permanent preservation of two miles of land along Breck Hill Road. The story of land conservation on Breck Hill Road became the subject of a nationally syndicated news column and inspired communities in New Hampshire and surrounding states to begin coordinated, neighborly outreach and action to protect scenic open space.
On November 3, the Upper Valley Land Trust, the Society for the Protection of NH Forests and the Lyme Conservation Commission will gather to dedicate a monument commemorating the Breck Hill neighborhood conservation project and honor the life of longtime Lyme resident Freda Swan who died July 4, 2017 at the age of 82.
It was Freda Swan who sparked the land conservation initiative on Breck Hill Road and supplied cheerful energy to sustain it. Freda had learned about conservation easements from Massachusetts Audubon, and felt this approach would sit right with her neighbors. Conservation easements are permanent legal agreements that specify how a property can be used and developed no matter who owns the land in the future. Conserved land remains in private ownership, used for farming and forestry, as it had on Breck Hill Road for generations.
With encouragement from the Upper Valley Lake Sunapee Regional Planning Council and support from the Society for the Protection of New Hampshire Forests, Freda spent the better part of a year sharing information with neighbors. Together, the neighbors discussed their hopes for the future of Breck Hill Road, a place they all loved. Individually, each landowner considered the terms of conservation restrictions that would suit their properties and meet their needs. Finally, on December 27, 1986, neighbors from 11 households gathered to sign conservation easements protecting over 400 acres on scenic Breck Hill Road. Family by family, they put their names to deeds that forever conserved 20 properties along two miles of road frontage.
Jeanie McIntyre, President of the Upper Valley Land Trust, says the Breck Hill neighborhood conservation project, and Freda's work there, remains the "gold standard" for multi-parcel, neighborhood land protection. "The Breck Hill neighborhood conservation project is recognized nationwide for its pioneering approach with conservation easements early on.  As far as the extent of the easements, the number of landowners and the incredible way that they supported each other, there still is just nothing quite like it."
In the years after the 1986 easement-signing party, Freda Swan contributed to the Town of Lyme and the wider region in many ways. For more than 30 continuous years she held positions in town governance, at times holding up to four positions at one time. Her service to Lyme included: Selectman, Planning Board member and chair, and important contributor to the development of the zoning code and the Master Plan, Budget Committee member, Town Office Facilities committee member, Youth Committee. She taught photography and volunteered in the town skiing program. She served as Lyme's representative to the Connecticut River Joint Commissions and the Upper Valley-Lake Sunapee Regional Planning Council.
Former Lyme Conservation Commission Chair Lee Larson said, "For many years, when a need was expressed, Freda often stepped forward to serve. With personal effort and competence, she made Lyme and the area in which we live a better place."
Freda and her husband Hank lived on Breck Hill Road for 40 years. Over a span of many years they served in leadership roles on all of New Hampshire's land conservation groups, strengthening protection and stewardship of natural resources and creating opportunities for ordinary citizens to participate. They died 30 days apart in 2017.
McIntyre says that the conservation groups wanted to do something to recognize Freda Swan's extraordinary legacy of land conservation and the historic significance of the Breck Hill neighborhood conservation project. "We have created a plaque to be installed on a stone at the north end of Breck Hill Road, not far from where Freda lived," she says. "It's our hope that this monument will help people appreciate that the scenic road they enjoy today is the result of choices made by some very forward-looking people in the earliest days of land conservation more than a generation ago."
https://uvlt.org/wp-content/uploads/2019/10/BreckHill-006-1.jpg
648
972
Jeanie McIntyre
http://uvlt.org/wp-content/uploads/2021/09/uvlt-logo-stacked.png
Jeanie McIntyre
2019-10-18 11:50:39
2019-10-18 11:51:07
Commemorating a Historic Land Conservation Achievement and Remembering Freda Swan