In Orford, a Conserved Birding Hotspot Gets Help from Beetles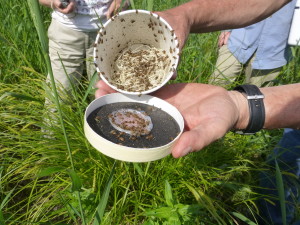 Last week the Orford Conservation Commission received a special delivery from the NJ Department of Agriculture. Inside carefully packed containers in temperature controlled cases were about 1,000 individuals of Galerucella calmariensis (more commonly known as the black-margined loosestrife beetle). The little brown beetles with faint black stripes down each side are an important biological control agent for purple loosestrife (Lythrum salicaria), a non-native invasive plant that can form dense colonies and displace native species in wetland communities.
Wetlands that become over-run with purple loosestrife lose the natural diversity of sedges, grasses, other aquatic plants, and native shrubs. Insect and bird diversity also decreases. When purple loosestrife vegetation decomposes, it increases tannic acid levels in the water, and  this has been shown to cause tadpole mortality for American toads. Native to Europe and Asia, purple loosestrife was introduced to the U.S. as an ornamental flower, and since each plant can produce about 1,000,000 seeds (wow!) it has quickly spread throughout the northeast, causing significant impacts to our natural communities.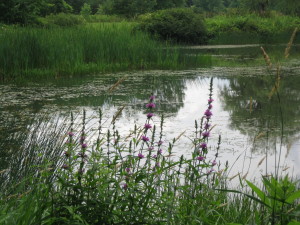 The Orford Conservation Conservation Commission obtained the beetles in an effort to control purple loosestrife at town-owned conservation land, located north of the village and between Route 10 and the Connecticut River.  The property includes a significant portion of the Jacob's Brook Wetland, which outflows into the Connecticut River from headwaters at both Pickerel Pond and an unnamed wetland near Wentworth, NH.  This alluvial wetland has several acres of open water, some included on this parcel and includes species such as broad-leaf cattail, bur-reed, blue flag iris, boneset, joe pye weed, ostrich fern and golden rod species.  There are also a variety of shrubs along the water's edge extending to the beginning of the forested slope.  The forested portion of the property is characterized as a rich mesic forest community with species such as American basswood, bitternut hickory, and American elm, as well as sugar maple.  Other signs of the rich mesic forest include the lush understory of  many non-woody eco-indicators including bloodroot, Canada lily, jewelweed, Jack-in-the-pulpit, red baneberry, blue cohosh, and wild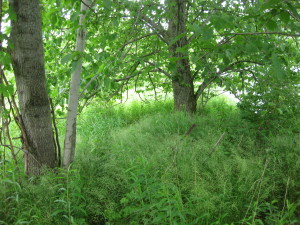 ginger. 108 species of birds have been seen there by Orford Conservation Commissioner Jeff MacQueen and the site has been deemed a "birding hotspot" by e-bird, a resource that is managed by the Cornell Lab of Ornithology and Audubon.
The 11-acre property was given to the Town of Orford in 2004 by Mrs. Hilda Richmond in honor of her late husband Gould Richmond for the continued enjoyment of the public.  At their 2008 Town Meeting, the residents of Orford voted to grant a conservation easement to UVLT to permanently protect the property. A small grant from the Connecticut River Mitigation and Enhancement Fund enabled UVLT to assist the Town.  The Conservation Commission manages the land with appreciation for the native species there and is actively working on various management techniques that help control invasive plants, such as purple loosestrife.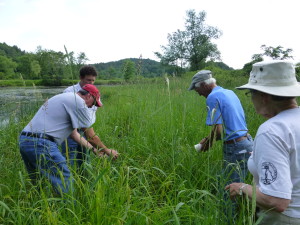 While some might question the sensibility of introducing one non-native species to combat another, significant studies and tests and trials have shown that these loosestrife beetles can be an important biological control agent. Both larvae and adult loosestrife beetles feed on the vegetation of purple loosestrife and very rarely turn to native vegetation. The Orford Conservation Commission will monitor the plants in the area of the beetles' release, and hopefully see some positive outcomes from this strategy! If the beetles are so effective that they reduce the loosestrife in an area substantially, their population might also drop, but often, because the beetles can travel up to 20 miles, they will find other purple loosestrife infestations and keep on working!
UVLT project manager Sara Cavin was pleased to be at the beetle release to see these little insects get right out onto the loosestrife plants – they were nice and active on the warm afternoon! Orford Conservation Commissioners and volunteers helped send them on their way, and will be checking back in at the conservation area as the summer goes on. To see more photos of the release and even a short video,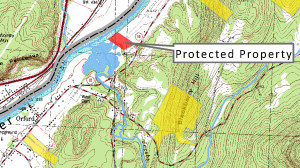 check out UVLT's Facebook page.
Want to visit? The property is located on Route 10 approximately 1 mile north of the village of Orford (north of where Route 10 crosses Jacob's Brook). The property is marked with a granite monument inscribed "Orford Conservation Land" on the front and "Given by Gould and Hilda Richmond" on the back.
http://uvlt.org/wp-content/uploads/2021/09/uvlt-logo-stacked.png
0
0
Jeanie McIntyre
http://uvlt.org/wp-content/uploads/2021/09/uvlt-logo-stacked.png
Jeanie McIntyre
2014-06-23 10:27:28
2014-06-23 10:27:28
In Orford, a Conserved Birding Hotspot Gets Help from Beetles