Working Woodland & Working Farm Conserved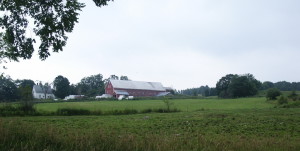 Two more parcels have been added to the portfolio of conservation lands overseen by the Upper Valley Land Trust:Â  a productive forest and shoreline along Meadow Brook in Corinth, and 135 acres of beautiful working farmland in Bath.
Jerry and Kathy Troy worked with UVLT to protect a large portion of their dairy farm with a conservation easement purchased through a combination of funding from the federal Farm and Ranch Protection Program and the Town of Bath Conservation Commission. The newly conserved land contains approximately 40 acres of pasture, hay fields, forestland, seeps, vernal pools, and forested wetland areas as well as a 36-acre open field with beautiful long range views of Mt. Moosilauke and Mt. Washington.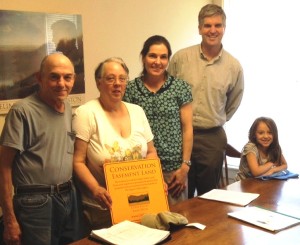 Jerry said that he was tired of people asking him to subdivide small lots off his property so they could build houses to enjoy the view. Instead he wanted to keep the property intact so that he can keep farming. He says he just feels better knowing that he doesn't have worry about it after he's gone.  Land conservation makes sense to Kathy Troy as well. She volunteered on the 10-member committee that inventoried the Town's natural resources. "My family has been farming in Bath for many years, and we see wildlife all the time," she said, "I can share what I know about how important farmland is to wildlife and learn how to manage the habitat at the same time."
In Corinth, 230 acres was conserved with a purchased conservation easement funded by the Upper Connecticut River Mitigation and Enhancement Fund of the NH Charitable Foundation. The productive forest consists of northern hardwoods such as sugar maple, beech and white ash. The land is under active management in accordance with a plan developed by Redstart Forestry and a timber harvesting

operation is currently underway.
There is almost ½ mile of frontage on Meadow Brook, a cold and clear stream that flows into the South Branch of the Waits River.  UVLT staff observed evidence of major flooding in Meadow Brook from tropical storm Irene, but noted that the brook's ability to spread throughout the lower forested areas and successfully utilize its floodplain within the property likely contributed mitigating benefits for parcels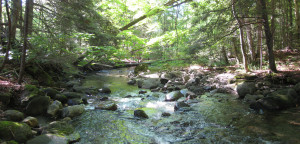 downstream. The conservation easement provides protective buffers along these riparian areas.
This conservation project was encouraged by the Orange County Headwaters Project, a local initiative that has spurred the conservation of many private properties in Corinth and Washington, VT.
http://uvlt.org/wp-content/uploads/2021/09/uvlt-logo-stacked.png
0
0
Jeanie McIntyre
http://uvlt.org/wp-content/uploads/2021/09/uvlt-logo-stacked.png
Jeanie McIntyre
2014-07-07 18:47:54
2014-07-09 17:25:29
Working Woodland & Working Farm Conserved