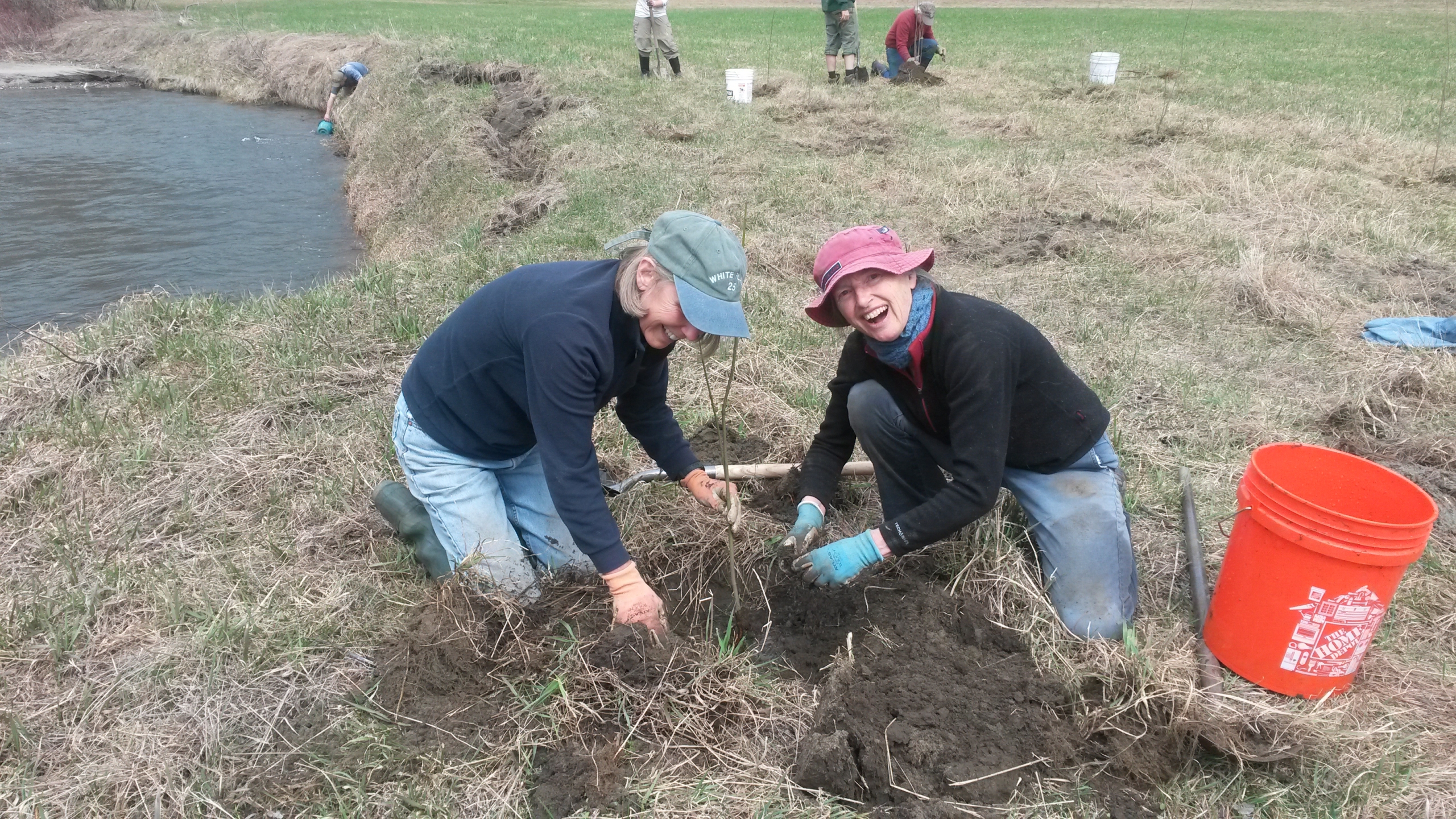 Good News on the "The Pomp"
A grant awarded by Vermont's Ecosystem Restoration Program (ERP) will help UVLT conserve two properties with 1.75 miles of frontage along the Ompompanoosuc River in West Fairlee. Approximately two thirds of Doug Dresser's 90-acre property will be protected with a conservation easement designed to preserve the natural movement and flow of the river's course over time. His neighbors, Paul Modern and Laurie Hildebrandt hope to conserve the majority of the 70 acres they own, including 20 acres of agricultural land in the river valley bottom and a steeply rising hemlock-hardwood forest visible from Route 113.
The state's ERP program was established to encourage landowners in high priority river reaches to convey "river corridor easements" to non-profits like UVLT to further enhance the river's natural patterns of flow and flooding that will contribute positively to the rest of the natural river system. By allowing rivers to seek a state of equilibrium along meaningful stretches, the economic costs from floods to public infrastructure like roads and buildings can be mitigated. The conservation easements on these properties advance UVLT's strategic focus on water resource protection and serve community and state goals.
The Ompompanoosuc River has been the focus of studies on water quality, wildlife habitat status, threats and restoration opportunities. The West Fairlee Conservation Commission (WFCC) and Thetford Conservation Commission have partnered to host presentations about the health of the river, and the need for actions by individual landowners to mitigate high E.coli levels and sedimentation issues that are a growing concern. Both Commissions strongly endorsed UVLT's application for the state ERP grant.
The landowners have been working with the White River Natural Resources Conservation District as participants in the "Trees for Streams" program that provides trees for riparian buffer plantings along high priority rivers and streams. This spring, a large group of volunteers from the conservation commissions, Rivendell and Samuel Morey schools, Northwoods Stewardship Center, the Upper Valley Land Trust, and the VT DEC planted 800 trees on 2 acres of floodplain which will buffer over 1,800 linear feet of the riverbank!
https://uvlt.org/wp-content/uploads/2014/08/20140504_143913-scaled.jpg
1440
2560
Jeanie McIntyre
http://uvlt.org/wp-content/uploads/2021/09/uvlt-logo-stacked.png
Jeanie McIntyre
2014-08-18 13:00:36
2014-10-19 17:37:41
Good News on the "The Pomp"