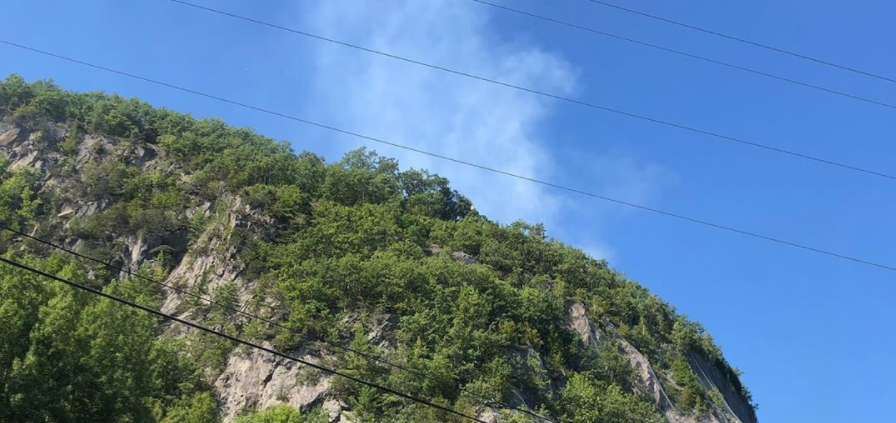 On Friday August 14th, UVLT staff were alerted to a fire at the top of Morey Mountain Conservation Area in Fairlee, VT. 
Several area fire departments including Bradford, Orford, and Hanover responded to the five alarm fire. They accessed the property from the access road on the interstate side, where smoke could be seen coming from the top of Morey Mountain. This aggressive response was likely due to concern for the transmission lines at the top of the mountain. 
The fire was likely started by a faulty lithium ion battery from the equipment that the state was using at the top of Morey Mountain to add more of the chain link fence "curtains" that protect against falling rocks. A large rockfall occurred in this section last year.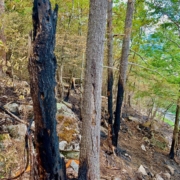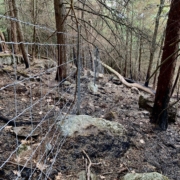 The fire was located primarily off of UVLT's conservation area with only a small section being affected by the fire. UVLT's trails were unaffected and remain open and safe for hiking.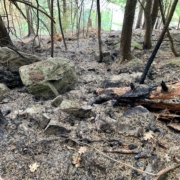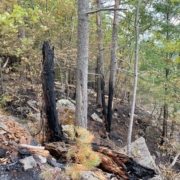 All post fire photos were taken by UVLT Stewardship Director Jason Berard.
https://uvlt.org/wp-content/uploads/2020/08/Morey-Mountain-Smoke.png
850
896
Lorie Hood
http://uvlt.org/wp-content/uploads/2021/09/uvlt-logo-stacked.png
Lorie Hood
2020-08-21 15:59:53
2020-08-21 15:59:53
Fire on the Mountain