Almost every summer UVLT hosts one or more interns in our office and in the field. They have worked on a range of projects – learning to monitor conservation easements, creating maps, developing natural resource inventories, measuring trail usage, or working in our garden – UVLT interns are a big part of our field season.
This summer UVLT hosted two interns. Abby Berard was our Patchen Miller Intern, working in our Brookmead Food Pantry Garden and managing planting, care, and harvesting of our crops as well as overseeing an army of volunteers. Micah Tilles worked with our Stewardship department, helping to get to know a new addition of land to the Ely Mountain Conservation Area in Thetford. Each of them wrote a short essay about themselves and their work to share with you.
Thank you Abby and Micah!
Abby Berard, Patchen Miller Intern at the Brookmead Food Pantry Garden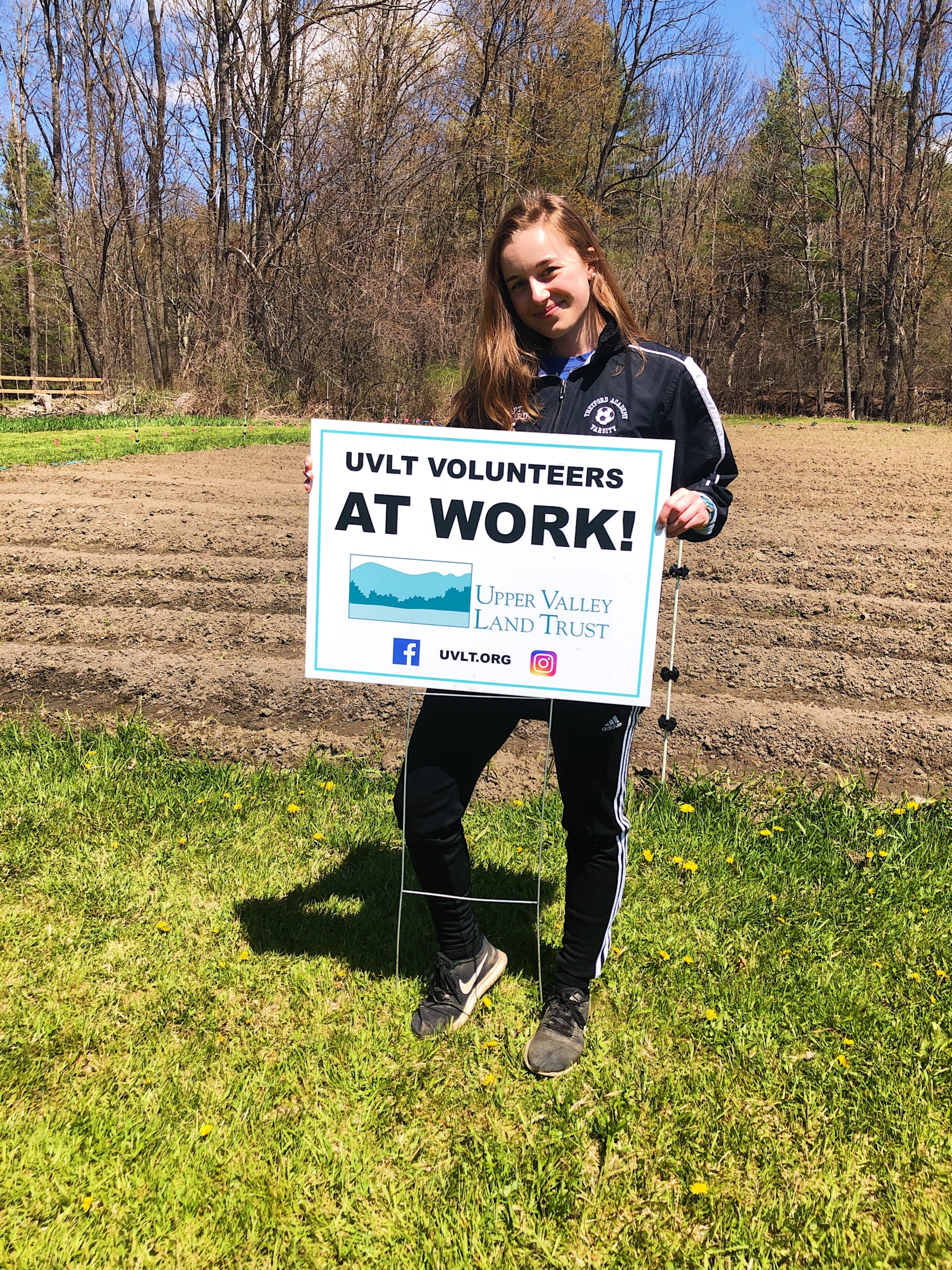 My name is Abby Berard, and I am this summer's Patchen Miller Intern managing the Brookmead Food Pantry Garden. In March of 2010, my dad, Jason Berard, accepted a job at the Upper Valley Land Trust. I was just 9 years old, and in the nearly 11 years of being around the land trust, I have witnessed my dad put his heart and soul into the organization. 
When the pandemic started, there were many uncertainties. One of which is the question of what summer employment would look like. I knew that I wanted a job that would allow me to spend as much time outside as possible. When I learned about this internship, I knew it would be a perfect fit. I sent my application in and hoped for the best. When Alison Marchione offered me the position I accepted immediately. I was beyond honored and excited to work for the organization that meant so much to my dad and to me as well. I already knew everyone and the transition was quite seamless. In past employment, I did some landscaping so I had a pretty good understanding of how to manage a garden. I had also run social media accounts for a Why Foods Matter class in High School so I felt very confident in taking on a social media role as well. 
As much as I was excited about this opportunity I could have never imagined its impact. I have made so many connections, learned a lot more about gardening, and been a part of something much bigger than myself. This internship was also a way for me to do something to help out members of our community who are more vulnerable than ever due to the pandemic. I am very grateful for this opportunity and look forward to coming back and volunteering at the garden next summer!
Micah Tilles, Stewardship Intern at Ely Mountain
I am an intern with the Upper Valley Land Trust and a recent graduate of Clark University with a bachelor's degree in Geography. I enjoy hiking, nature photography, and writing. As a geographer, I am drawn to landscapes, especially rural and cultural landscapes. This interest in rural regions and the link between culture and landscape led me to the Istria region of Slovenia in 2019, where I interned for a nonprofit NGO that promoted community development through the conservation and stewardship of local landscapes. I expanded upon this experience by writing a pre-published academic journal article on this subject during my final semester of college. Observing and writing about the challenges facing Istria reminded me of my home region, the Upper Valley.
Having spent the first 18 years of my life in the Upper Valley, I have a strong attachment to the area. It was on the property surrounding my childhood home in Strafford where I first fell in love with the natural environment. Often with my siblings, friends, or a loyal Labrador Golden Retriever mix, I explored fields and forests, meadows and ponds, fantasy worlds and forgotten relics of the past. These formative moments sparked my interests in culture, human-environment relationships, and history. Now, every time I return to the region, its folding hills, glistening rivers, and distant fields tucked-away within a sea of forest green, reignite these interests. But most importantly, this place is personal. The Upper Valley, the old general store, that house with the same owner for the past 50 years, the swimming spot with the rope swing, the horse farm, the local milk, and that clear night sky are all a part of me and the numerous other inhabitants of the Upper Valley.
Interning with UVLT has allowed me to see these connections between the community and the natural environment with greater clarity. It has also given me an opportunity to take an active role in the conservation of the region's wildlife, biodiversity, landscapes, and ultimately its character. I have worked primarily with the stewardship team on a newly purchased parcel of land near Ely Mountain in Thetford and Fairlee. This has meant spending much time in the woods flagging boundaries, noting natural communities, and uncovering evidence of past land use. Then, after my time in the field, I have used GIS and mapping software to organize and present the spatial data I collected. Additionally, I have had the opportunity to monitor several conservation easement properties.
https://uvlt.org/wp-content/uploads/2020/10/Ely-Mountain-Conservation-Area.png
1260
2240
Lorie Hood
http://uvlt.org/wp-content/uploads/2021/09/uvlt-logo-stacked.png
Lorie Hood
2020-10-07 18:05:13
2020-10-07 18:05:13
This Place is Personal