A Celebration of Land Conservation
UVLT's Annual Celebration of Land Conservation returned in early June. It has been three years since the last time UVLT was able to safely convene friends and supporters in a large group. More than 90 people came out to enjoy stories, music, and each other's company on a beautiful summer evening.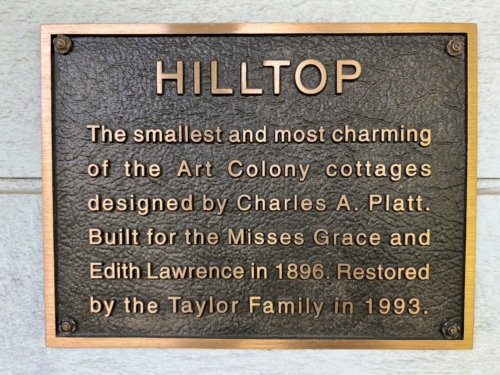 Helen and Richard Davidson graciously hosted the celebration at Hilltop in Plainfield, 137 acres conserved by Helen's mother, Edith Taylor, in 1992. Helen and her brothers, David and Steve Taylor, briefly spoke of the site's natural history, and thanked UVLT for supporting and upholding their mother's goals to protect the land.
UVLT President, Jeanie McIntyre, shared remarks on UVLT activities and accomplishments, noting that volunteers, donors, landowners, new partners, and longtime allies continue to work together to create a sustainable future despite the ongoing challenges of political, economic, and environmental instability. She reaffirmed that UVLT stands firmly committed to its mission, and promise, to conserve and protect our region's lands for the health and resilience of people and nature.
Craig Layne Receives UVLT Conservation Leadership Award
UVLT Vice President for Land Conservation, Peg Merrens, presented an award for "Conservation Leadership" to Craig Layne for his tireless outreach and effective advocacy to establish the 290-acre Woody Adams Conservation Forest that connects forest blocks in the Gile Mountain area of Norwich. Craig is an experiential learning facilitator engaging young people in science and outdoor studies at Dartmouth College's Department of Biological Sciences. He is a member of the Linking Lands Alliance, a grassroots group that engages in studies looking at human impacts on wildlife habitat in the Upper Valley. He serves as chairperson of the Norwich Conservation Commission. 
"From a series of town hall style meetings on Zoom informing the community of the benefit of protecting the forest for carbon sequestration purposes, and multiple meetings with the Norwich Select board and Town Manager, to assisting with numerous fundraising calls and letters, it is safe to say that this project couldn't have been completed without Craig's active leadership."
-Peg Merrens
In accepting the award, Craig noted that he loves forests and "every time you step between two trees, you enter a whole new world."
https://uvlt.org/wp-content/uploads/2022/06/IMG-0922-e1655343604573.jpg
878
2285
Ryan Collette
http://uvlt.org/wp-content/uploads/2021/09/uvlt-logo-stacked.png
Ryan Collette
2022-06-29 14:39:13
2022-06-30 16:39:56
A Celebration of Land Conservation