Prime Riverfront Farmland Conserved in Bradford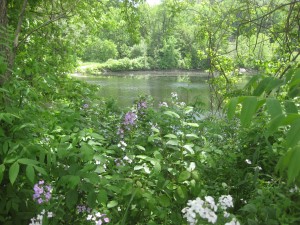 The Bradford area retains a strong farming community. There are at least six active farms in town; among these is the Burgess Farm. It is a family-owned dairy farm with over 50 milking cows and another 50 head of cattle. On Friday, October 1 the Upper Valley Land Trust (UVLT) conserved 110 acres of the Burgess Farm with funds from the Vermont Housing and Conservation Board (VHCB) and the Bradford Conservation Commission (BCC). The newly conserved farmland, with nearly one mile of river frontage, contributes to a corridor of conserved lands along the Connecticut River in Bradford and Newbury.
The farm has been in continuous operation since 1792; Samuel Miller was the original settler. A member of the Burgess family bought the property in 1937, by trading the general store he owned in Moretown, VT for the farm plus cash. Current landowner, Duane Burgess said of the project, "I like the concept of conservation, it's a good thing." The farm's 110 acres of land are a valuable agricultural asset that will continue to be available for farming for generations to come.
According to UVLT President, Jeanie McIntyre, the long-term availability of this property for agricultural uses "is like money in the bank. This is the sort of resource that our region needs." Parcels like the Burgess Farm are essential to creating a sustainable food system and a vibrant regional economy.
Approximately 80% of the Burgess Farm's soil is rich and fertile, designated as prime agricultural land. The Burgess family sustainably manages their farm by rotating their crops annually and keeping a wide grassy buffer along the river. Also notable is the Burgess' herd of Guernsey milk cows. This breed is known for producing high butterfat, high-protein milk with a high concentration of beta-carotene. Guernseys are also known for their grazing abilities – they are able to convert grass to milk efficiently, requiring less feed than other breeds. Most Guernsey cows calve easily and possess pleasant dispositions.
The Upper Valley Land Trust will be responsible for monitoring the property annually to ensure that the conservation values of the land remain intact in perpetuity. This conservation project has been completed as UVLT prepares to celebrate its 25th anniversary. The Burgess Farm conservation easement is one of more than 400 that UVLT is responsible for stewarding, this includes more than 40,000 acres region-wide. It is a part of a continuing legacy of land conservation in the region.
http://uvlt.org/wp-content/uploads/2021/09/uvlt-logo-stacked.png
0
0
Jeanie McIntyre
http://uvlt.org/wp-content/uploads/2021/09/uvlt-logo-stacked.png
Jeanie McIntyre
2010-10-05 22:34:28
2013-12-22 16:43:16
Prime Riverfront Farmland Conserved in Bradford