Trail Work Begins at UVLT's Zebedee Wetland!
September 21, 2012
Two years ago Upper Valley Land Trust became the proud owners of a 27.3 acre property in Thetford, Vermont.  This property was known as the Zebedee Headwaters that, prior to being purchased by UVLT, had been approved for residential development; development that would have fragmented wildlife habitat and diminished the recreational and educational values of the property.  Thanks to funding and support of many partners, this did not happen.  Now known as the Zebedee Wetlands, UVLT has continued to manage the land to support its recreational and educational purposes.  It is frequented by Thetford Elementary school children and enjoyed as a walking path by many.
This past summer the Thetford Conservation Commission and UVLT made plans to improve the existing trail using monies from a Memorial Fund held by the Commission in memory of Linny Levin.   Linny was a dear friend, neighbor, naturalist and teacher – to name just a few – and it seems fitting that this fund in her memory will help bring people and nature that much closer.  A Dedication Ceremony for the trail, which will honor Linny's name, is scheduled for November.  Keep an eye out for more information to come.
In the meantime enjoy the jovial competition and achievements of the first trail work day by reading the 'Crew Boss' Reports below!   Who is YOUR favorite crew?!
~Anna Slack, Programs Coordinator
 
Bridging the Bogs:
What do you get when you mix 'bog people' with wood, spikes, handsaws, hammers and sunshine?  Well, bog bridges of course!  A trip to UVLT's Zebedee Wetlands will showcase the work of this particular hardworking crew of 9-10 people!  On a glorious day this September Associates from Hypertherm, sprinkled with some Thetford residents and Conservation Commissioners and a dash of UVLT staff, built 180 linear feet of bog bridging (also known as puncheons) to keep visitors to the Zebedee Wetlands on the trail , and able to go home with (mostly) dry boots.   This cheerful bunch joined forces to hand carry over 40 pieces of hemlock planks, each measuring 3"x8"x10' long, to various soggy locations along the trail where they were formed into bridges.  The hemlock was cut within 4 miles of the site at the beginning of the week…..these boards were as fresh and local as they come….and, did I mention heavy?  Well, "heavy" was just another word for "a challenge" for the Hypertherm crew.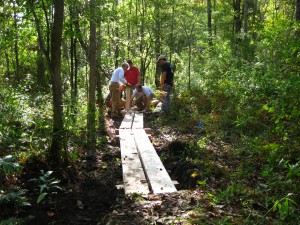 Bit by bit, the boards appeared, were measured, cut by hand (no plasma cutters on site), set in the ground (mud in many places) and spiked together after utilizing a special measuring device to ensure the exacting specifications for which Hypertherm is well-known.  Thetford residents Mike Pomeroy, Tim McCosker, and Roger Hanlon (UVLT Trustee) provided guidance, spike driving muscle, and encouragement at precisely the right times.  It was machine in action, art in motion, a thing of beauty.   And, as if that wasn't enough….there was joking, laughing, teasing, perfect angle cuts, a hidden dovetail joint (…um, not really) and of course, the goodies and snacks provided by Connie Snyder, Sarah Martel, and many other Thetford bakers.  A grand time was had by all.  Many, many, thanks to the Hypertherm crew and Thetford residents.  Get on out there, put some boot prints to the wood, and let UVLT know what you think…. (hint…bog people rule!)
~ Pete Helm, VP Stewardship (and king of the Bog People, apparently)
 
Ditch Diggers Dry Trail by Diverting Drainage Downhill
 Operation Shiny Shovel: Our mission was simple, find all trip hazards and wet spots along the trail and make them disappear.  We started with the trip hazards first, as they were closest to the snack table, and we knew we would be sustained by Connie's blueberry cake, as well as all the other delicious treats supplied by the Stupendous Snack Committee. The area near the gate was rutted up and not really suitable for a footpath, so we began carving the high spots down, and adding the material to fill the low spots. When we were done, the gate area was as flat as Kansas, and made an inviting entrance to the wetland.
From here we broke into two groups. The first group had the unenviable task of digging two gigantic holes for the kiosk posts, which they attacked with gusto (little did they know that a 250 lb boulder lay just below the surface in the appointed spot for one of the holes!). The rest of our crew headed over to the northeast corner of the wetland to work on better drainage for a habitually damp section of the trail. When we were done, we had created 75 feet of ditch to keep walkers feet dry, and water off the trail and heading to the wetland, where it really wanted to go anyway. At the end of the day, we reconvened at the gate, and each shovel was as sparkling as newly polished silver; our just reward for a day's work well done!
~ Jason Berard, Stewardship Coordinator
 Brushing Crew Brings Beauty (and Brawn):
It is not surprising that the best crew of trail workers (also made up of volunteers from Hypertherm, the Conservation Commission, and Thetford neighbors) got the task of making improvements to the entire length of the Linny Levin Trail on this first official workday on September 21st .  From the beginning of the day until the end, the brushing crew was hard at work creating new trail segments through nearly-impenetrable thickets, rerouting some existing (rough) trail sections to better (drier) ground, cutting, clearing, filling, excavating roots and rocks that were definite "tripping hazards" (identifications made by very precise methodology… that is: "Let Ciara (a crewmember) walk through there, and she'll find them!"), and Phoebe demonstrated the power of the fulcrum (and female!) by levering out a massive barberry bush, torso-sized root-ball and all!
After deciding (and proving) that a not-to-spec "swing" might invite a few too many dare-devil antics, Scot and Neal combined muscled forces to take out the grape vine+white pine+buckthorn trail blockage to complete the new trail entrance near the edge of the wetland.  We certainly took Connie's advice and enjoyed the place too! While exploring the route of this nature trail, and building in ways to bring out some of the more interesting and most beautiful spots along the way, this crew helped set the stage for a whole lot more learning, laughing, and exploration of the Zebedee wetlands that is sure to come! Other groups were awed by our "before vs. after" trail sections and probably all wished they too had been on the best crew.
~ Sara Cavin, Conservation Project Manager
Rock Stars Rally to Revitalize a Rough Route
After the Bog People, Ditch Diggers, and Brushing crews made a pass through the trail it was time for the Rock Stars to apply polish and detail to Zebedee. Â Hypertherm volunteers Shane, Sean, Son, and Chris eagerly, although some claimed ignorantly, joined UVLT intern Kevin for a day of fine masonry work.
The day's warm-up act was walking the trail to preview the stone work and appreciate the shoulders of the giants they hoped to stand upon.  This circumnavigation of Zebedee was a chance to become acquainted with the wetlands and each other.  A visit to Second Grade Island and the successful crossing of an old beaver dam forged this group into a team.
After assembling tools and identifying properly sized stones the Rock Stars put together an epic performance with a magnificence just short of Stonehenge. The prime focus of the crew was placing step stones for traversing wet areas of trail too short to warrant a puncheon.
With momentum generated after creating a crossing resembling an alligator (look carefully and you'll see it) the Rock Stars expanded their repertoire and turned the enthusiasm dial up to 11. Without prompting from UVLT they placed landing stones at the terminus of several puncheons improving the walk-ability of the trail while reducing mud and erosion.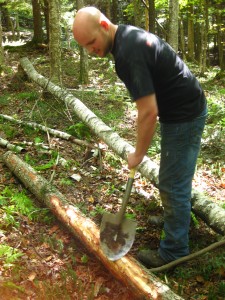 This super group continually sought new challenges. After lunch they embodied the spirit of the beavers who created the Zebedee wetland and stripped bark from Hemlock logs to be re-purposed as a bridge destined to cross a perennial stream. The day ended with another walk, this time on the reworked trail. Any soreness from the performance was massaged away by huge smiles while marveling at the improvements made by all who attended the show.
~ Kevin Brooker, UVLT Stewardship Intern
http://uvlt.org/wp-content/uploads/2021/09/uvlt-logo-stacked.png
0
0
Jeanie McIntyre
http://uvlt.org/wp-content/uploads/2021/09/uvlt-logo-stacked.png
Jeanie McIntyre
2012-09-28 19:50:32
2013-12-21 18:21:35
Trail Work Begins at UVLT's Zebedee Wetland!