New North Pomfret Easement Joins Neighbors
By Sara Cavin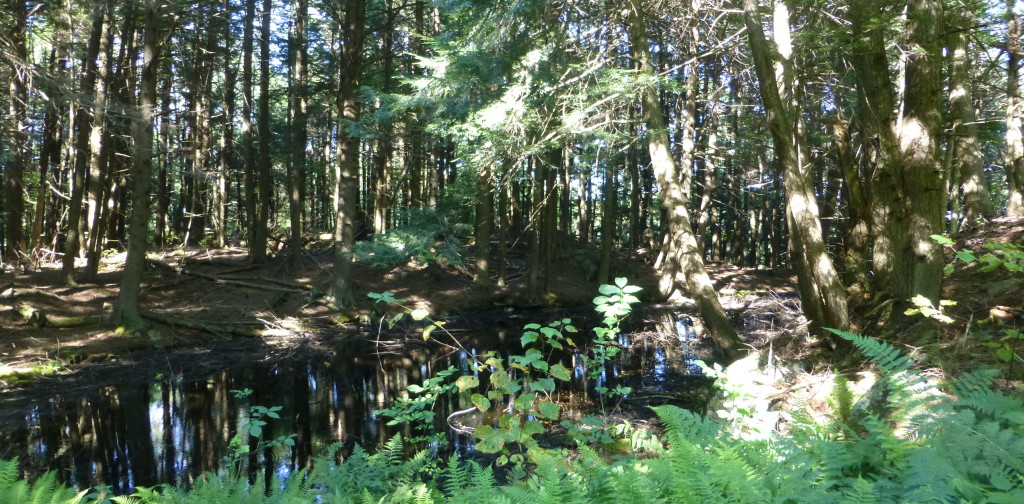 We ended the  week with another 50 acres conserved!  Friday, Chris and Jocelyn Randles signed a conservation easement with the Upper Valley Land Trust to protect their property  in North Pomfret.
This land, nestled between other UVLT-conserved parcels, fills a gap in what has now become a 605 acre contiguous block of UVLT-conserved land abutting thousands of acres along the Appalachian Trail corridor.
Some hidden secrets about the land's history are revealed in intriguing rock carvings about a young bride lost in the forest in 1779. The Pomfret Historical Society researched these carvings and found that they may have been made by Jason Hewitt, a local historian, around 1915.  Prior to the Randles purchase of the property, it is likely only one other family – the Danas – owned and worked the land since it was part of the First Division of land in Pomfret.
Now, managed for sustainable forestry that protects water resources such as Dana Brook and a productive vernal pool, the vast majority of the property will remain undeveloped as it has been.   The signing of the conservation easement accomplished a goal the Randles had since purchasing the land in 2008. They wanted to see its resources preserved and join with the conservation efforts of neighbors which had been part of what drew them to this beautiful part of the Upper Valley from the very beginning. See more photos on our Facebook site.
Few cyclists may know the stretches of road in this area as well as Chris Randles does – he once cycled the entire trip from Boston to Pomfret in one day! – but now many more will be assured of a shady respite along the Old Kings Highway where a quarter mile of protected frontage has been added by this project.  I will surely look forward to pedaling my way along this quiet route and be glad to know it will keep its rural character…
http://uvlt.org/wp-content/uploads/2021/09/uvlt-logo-stacked.png
0
0
Jeanie McIntyre
http://uvlt.org/wp-content/uploads/2021/09/uvlt-logo-stacked.png
Jeanie McIntyre
2013-12-15 22:21:22
2014-02-19 01:36:40
New North Pomfret Easement Joins Neighbors