Matchmaking: Thank you from Jeanna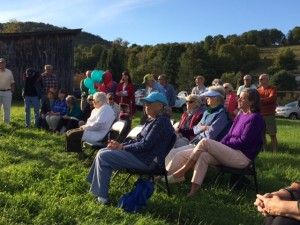 Pomfret neighbors and friends gathered last week to celebrate "Chase Field" conserved by Lysle and Elaine Chase after a successful community fundraising effort. The papers were signed in January and ownership of the farmland transferred to cheesemakers John and Janine Putnam; the party waited until the sun was strong and summer haying was completed. Guests came from near and far — including Texas and Saratoga. The Chase's daughter Jeanna Hamblet, shared the following remarks:
I remember when our parents and Gramp and Gram (Moses and Rena) bought the Galaxy Hill Farm, including this field (referred to as the Keck Field). It was the mid-fifties and I had not started school yet and brother Keith was a toddler. My siblings Kim, Tammy and Jenny were to join us on the farm later.
Grampa and Dad would till, fertilize and seed this field. They would then mow, bale and load wagons with the bales with the help of cousins, uncles and neighbors. Mom would make trays of sandwiches and thermoses of lemonade for us once the bales were stacked into the hay mow back in the barn.
Our parents and grandparents cared for this field all the years they owned the farm, making certain that it was healthy and kept free of brush, taking pride in the fact that it was productive as well as such a spectacular view coming down the County Road toward the old Keck Farm (now loved by the Semple family).
Our parents loved this land and decided that they wanted to give it the best future possible — to remain as verdant and free as when they farmed it so instead of selling it for development they found people of like mind.
A wonderful partnership has taken shape over the past few years — John and Janine Putnam came into Mom and Dad's lives with the same love of the land, the Upper Valley Land Trust became the matchmaker and wonderful neighbors John Moore and Bill Emmons came together to raise the money needed to pay for the UVLT portion of the transaction.
Thank you John and Janine, thank you Sara Cavin (and UVLT staff), thank you John Moore and Bill Emmons and your committee and donors for helping our parents achieve their dream of keeping this field free to be — as we see it today — Forever!!!!
AND!!! Thank you to our parents/grandparents/great grandparents for the foresight and love of the open space and beautiful vista this will provide. May their gift to Pomfret inspire others to do the same in the future.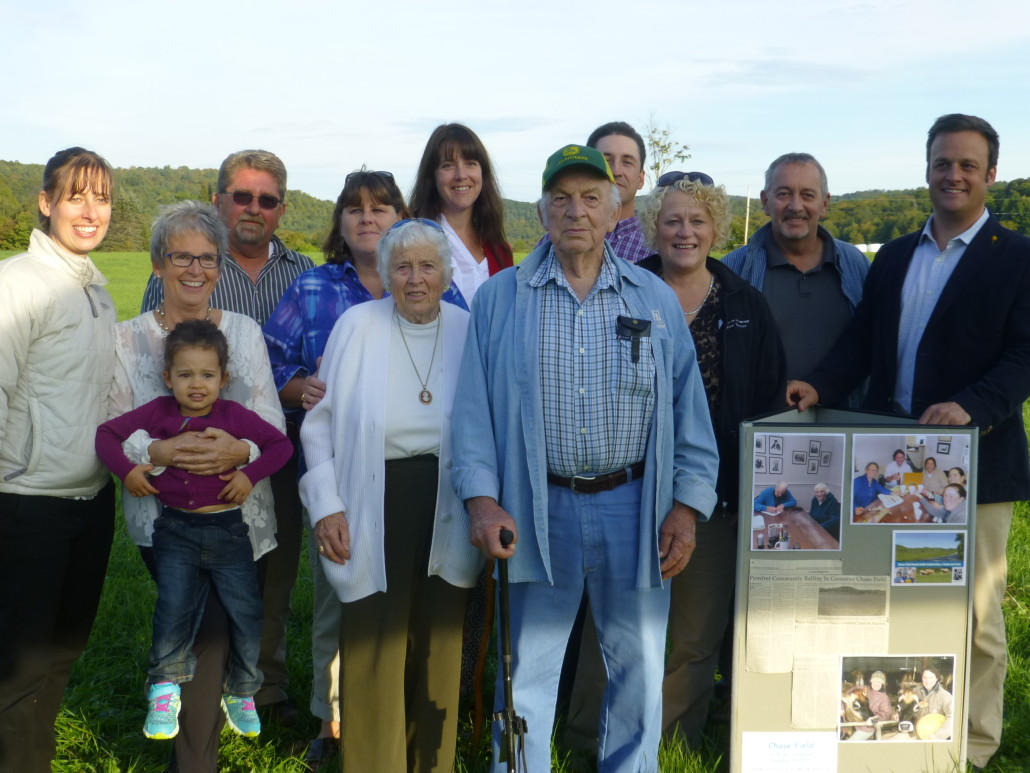 https://uvlt.org/wp-content/uploads/2015/09/P1080883.jpg
2560
1920
Jeanie McIntyre
http://uvlt.org/wp-content/uploads/2021/09/uvlt-logo-stacked.png
Jeanie McIntyre
2015-09-30 15:39:52
2015-09-30 15:39:52
Matchmaking: Thank you from Jeanna