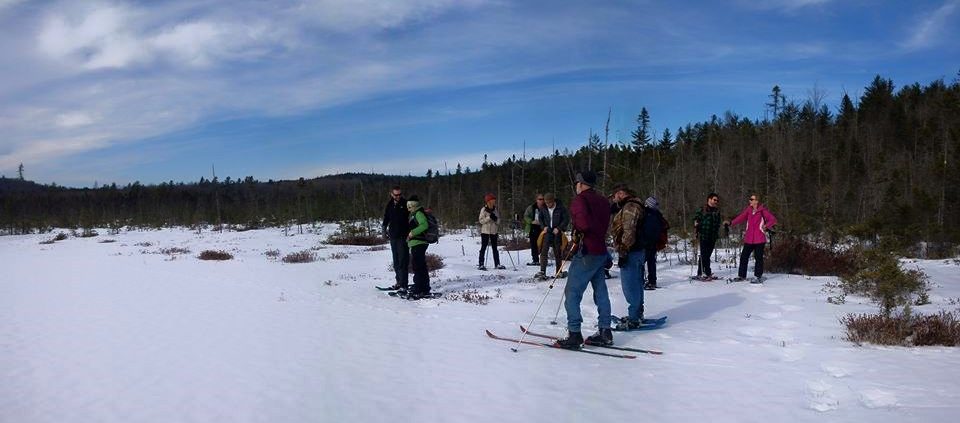 Winter Recreation: There's Something for Everybody!
Are you looking forward to winter or dreading it? Don't worry because either way UVLT is prepared for a winter of fun activities for everyone. Whether you are someone who wants to get out on your skis or someone who wants to curl up with a good book, we have something for you!
Upper Valley Land Trust Outside Winter Event Series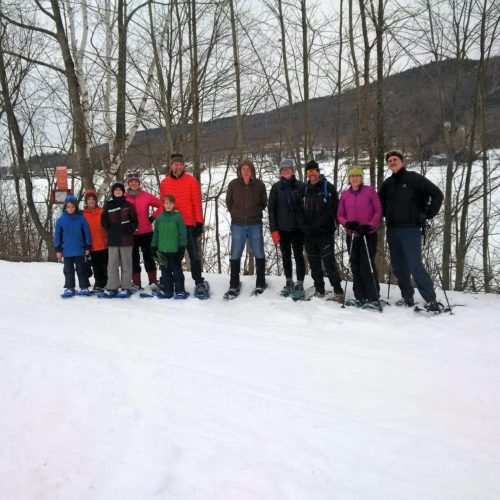 Solstice Hike at Lyme Pinnacle – December 21st  3 pm – Highbridge Road, Lyme, NH
Celebrate the returning of daylight and the coming of the new year with the Upper Valley Land Trust. This year our annual solstice hike will be held at Lyme Pinnacle. Join us at the parking lot off Highbridge Road at 3pm for a snowshoe up to the top where we will have a winter bon fire and watch the sunset. Bring headlamps – we'll come down in the dark.
Full Moon Snowshoe at Mountain View Farm – January 10th – 5:30 pm
Brave the cold and join UVLT for a snowshoe hike during the full moon. Meet at 5:30 pm (just before dark) at Mountain View Farm on Mousley Brook Road in the Quinttown Area of Orford. Bring head lamps or flash lights!
Wild About Lebanon – Ski or Snowshoe at Balestra Farm – January 18th 12-3 pm- 14 Stevens Road, Lebanon, NH
Join UVLT, the City of Lebanon, and Suellen Balestra at her conserved farm for a day of cross country skiing or snowshoeing and beautiful, scenic views. Trails will be groomed by the city. Hot drinks provided. This is a self-guided ski or snowshoe with well-marked trails. Maps provided.
Open Ski Day at Brookmead Conservation Area – February 1st 12-3 pm
 Join UVLT for a fun afternoon of skiing on our newly groomed Brookmead Conservation Area trails. Easy trails through the open field, more difficult trails through the woods, with connection to Parcel 5 trails. Self-guided, maps provided.
Wild About Lebanon – Class Six Snowshoe February 15th – 12 pm – Hall Road, Lebanon, NH
Explore some of Lebanon's Class 6 Roads! Meet at the Hall Road Entrance south of Poverty Lane Orchard. Approximately 1 mile snowshoe with moderate ups and downs.
Bear Pond Snowshoe – February 22nd 12-4 pm – Hall Road, Canaan, NH
UVLT and MWCC's 13th annual joint snowshoe at Bear Pond! 4 mile loop. Excellent opportunity to see large frozen ponds, quaking bog, beaver dams, and more! The best time of year to visit Bear Pond is in the winter, when you can reach areas that are normally inaccessible when not frozen!
Wild About Lebanon – Snowshoe Signal Hill – March 12th 4:30 pm – Stevens Road, Lebanon, NH
It's light out until 6:30! Indulge in the light and join us for an after-work snowshoe at Signal Hill. If conditions are appropriate we will end with a small "signal fire". 2 miles, easy.
Not a joiner? That's ok. Here are the best UVLT trails to explore on your own!
Smith Pond Shaker Forest – There are lots of hikes here, but we are recommending starting at the Smith Pond Road parking lot (off exit 15 on I-89) and heading to the pond. 1 mi each way. Provides serene and gorgeous winter views. Snowshoes recommended if there is snow. Click here for a map.
Brookmead Conservation Area – New this year, the trails will be groomed for xc skiing and snowshoeing. New loop through the field for an easier hike/ski, longer connections through the woods to parcel 5. Click here for a trail map. 
The Dismal at Pressey Brook – Our new conservation area is open to the public for skiing and snowshoeing. The trails aren't groomed, so it may be a more rugged hike, but there is a gorgeous, frozen wetland to explore.
Lyme Pinnacle – This hike is a crowd pleaser during any season. Multiple ways to the top make for harder or easier hikes up. Click here for a trail map. 
West Windsor Town Forest – Break out those fat bikes or get in line for the ski tow, this recreational area has something for everyone.
Cobb Hill – The trail at Cobb Hill is part of the larger Hartland Winter Trails Network. Skiing and snowshoeing only. Click here for a trail map. 
My Walden – This well kept (privately owned and managed) conserved property is Sharon's best kept secret. Click here for a trail map. 
Don't want to go outside at all? Join us for one of our indoor series.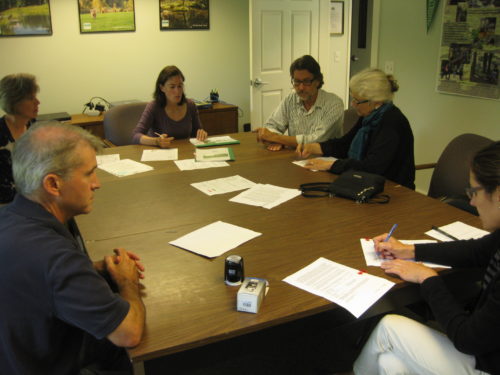 Lunch & Learn
Lunch & Learn is a winter indoor lecture series that takes place the third Thursday of the month from January to April at the Enfield Community building featuring various guest speakers and topics. Each lecture is from 12 to 1pm.
January  16th – Daniel Pontbriand, National park Service Chief Ranger (retired):
The Investigation of Smith Pond's Sunken Boat
February 20th– Len Reitsma, Professor of Ecology at Plymouth State University:
Canada Warbler Research at Bear Pond Natural Area, Canaan, NH
March 19th– Dawn Dextraze, Education and Outreach Specialist for Sullivan County Conservation District: Raising Monarchs, Lessons in Caring
April 16th– Emily Bryant, Orford Conservation Commissioner: Using LIDAR Imagery to Search for Natural and Historic Features at Smith Pond
Voices of the Land
Embrace the winter bookworm within and join us for our UVLT book club series! We will meet at the UVLT office on the second Wednesday of the month at 3 pm to discuss a reading of an environmental nature that we have all read. We will read a wide variety of genres including fiction, non-fiction, poetry, and memoir. If you are interested in this series please sign up soon as space is limited. Sign up by emailing or calling Alison at alison.marchione@uvlt.org or (603) 643-6626.
https://uvlt.org/wp-content/uploads/2019/11/2019-Bear-Pond-snowshoe_AM-5.jpg
439
960
Jeanie McIntyre
http://uvlt.org/wp-content/uploads/2021/09/uvlt-logo-stacked.png
Jeanie McIntyre
2019-11-07 16:09:47
2019-11-08 16:41:08
Winter Recreation: There's Something for Everybody!