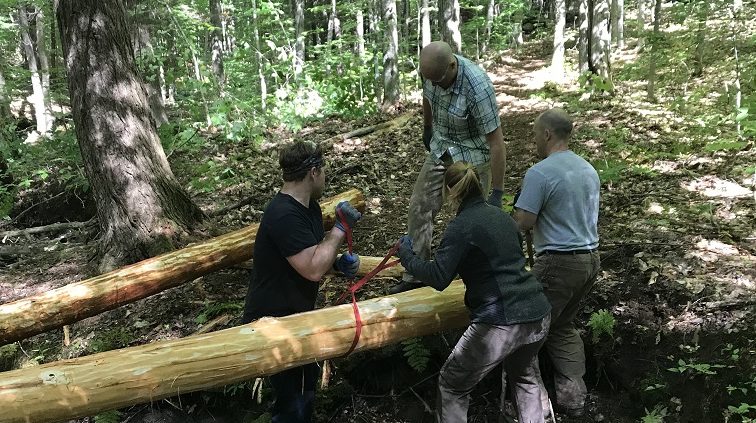 The 2020 field season is in full swing! From trail building to garden work, construction to habitat restoration, we have a diverse and growing list of volunteer opportunities with UVLT. We look to our neighbors, supporters, friends, and local businesses to provide volunteer hours that are essential to managing current and opening new properties for public use. If you have been considering a volunteer role with UVLT, now is the time to step into land stewardship.
Our volunteer program has been impacted by Covid-19, but we have been resilient through these changes, adapting our volunteer policies according to current public health recommendations. Using these safety guidelines for volunteer events, we can continue to provide meaningful experiences to volunteers, fresh produce to Willing Hands, public trails to recreationalists, and the promise of protected land to conservation easement holders.
Volunteering at the Brookmead Food Pantry Garden, scheduling a Corporate Volunteer Program event for your workplace team, and monitoring conservation easements are covered here, but there are many ways to create an impact as a UVLT volunteer. Click here for more examples of how to engage with us in the outdoors and from your home.
Join us at the Food Pantry Garden
The Brookmead Food Pantry Garden is located in Norwich, Vermont and was started in 2019 as a source of fresh produce for Willing Hands. During a time of heightened food insecurity for some Upper Valley residents, the Brookmead Food Pantry Garden has become one of our primary focuses for volunteerism. We have increased the size of our garden 6x, and our volunteers have proven they are up to the task of maintaining a large scale garden. There is always work to be done in the garden and the more hands we have pulling weeds and planting seeds, the more produce we will be able to donate to Willing Hands. Every additional person that joins us makes a huge difference, so any time you are able to spend in the garden makes an impact. We are scheduling volunteer workdays on a weekly basis, so contact alison.marchione@uvlt.org if you would like to receive the weekly garden email.
Get Your Business Outside
The Corporate Volunteer Program is our way of engaging Upper Valley area businesses in our stewardship work. In 2019, we held volunteer workdays with 7 different companies and hope to increase that number in 2020. There are many different ways companies can volunteer with UVLT, from trail work, to carpentry, to habitat restoration, in a group or as individuals. This program offers an opportunity to interact with the outdoors and maintain recreational spaces that are used on a daily basis. If your employer offers volunteer hours or you think your coworkers could benefit from an afternoon in the woods, don't hesitate to email paul.blazevich@uvlt.org. We will create a custom outdoors experience for your team and provide a welcoming workshop for learning environmental stewardship skills.
Help Us Steward the Land – Take a Hike!
The cornerstone of volunteering with the Upper Valley Land Trust is the monitoring of conservation easements. Conserving land in perpetuity is our mission, and you can help us maintain our conservation promises. Every year, our team of volunteers helps to monitor a portion of our more than 500 conservation easements. This is an excellent opportunity if you appreciate spending time in remote areas and exploring off trail. Many volunteers build critical relationships with our landowners, and each party looks forward to the annual visit. Easement monitoring also provides a new lens for reflection on the natural world, as you reflect and write monitoring reports after completing your visit. Our Stewardship Department can assign you a conservation easement in your neighborhood or in an area of the Upper Valley you enjoy visiting. Our portfolio offers forest, trail, and farm easements ranging from large and wild to small and in town centers.  We can match you with a property that fits your available time and abilities. Email katelyn.currie-huggard@uvlt.org if you would like to be trained as a volunteer monitor. 
We would love to facilitate outdoor volunteer opportunities for you, your family, and your workplace. As we all adapt to Covid-19, now is a great time to focus your outdoor recreation at conserved land around the Upper Valley. Consider taking this opportunity to be introduced to beautiful properties just around the corner from your home!
https://uvlt.org/wp-content/uploads/2019/10/IMG_6247-e1571082196510.jpg
1008
756
Lorie Hood
http://uvlt.org/wp-content/uploads/2021/09/uvlt-logo-stacked.png
Lorie Hood
2020-07-06 15:33:19
2020-07-06 15:33:19
Volunteer With Us!