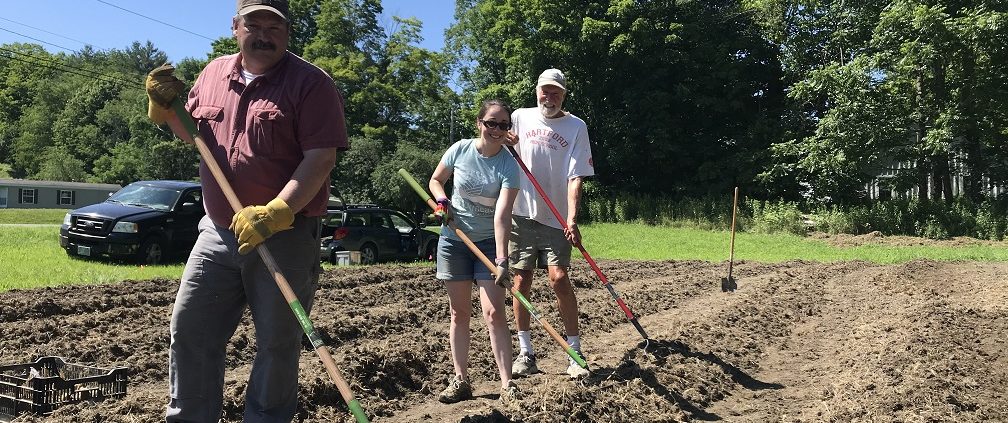 Brookmead Food Pantry Garden and the Community Impact of Land Conservation
When UVLT decided that it was going to own land outright we did so for many reasons – there are the obvious ones: trails and recreation, sustainable forestry, and protecting and managing large blocks of habitat. There are also less obvious reasons that are still vitally important: being able to run dynamic programming, making sure that everyone has the opportunity to be outside, and creating an opportunity for locals to experience land stewardship and find fulfillment in their community. UVLT wants Upper Valley residents to be able to feel the pride associated with caring for these precious soils no matter how much land they may own.
We want to use the properties we own to benefit the whole community. Our mission brings people together to conserve land that makes our communities more resilient, healthy and sustainable for all. In the past we have cut and split logs from our Brookmead property in Norwich to provide firewood to the firewood assistance program. We believe it's important to serve both the environmental and social needs of the Upper Valley and we desire to demonstrate that land conservation is relevant and can work for the whole community.
We are inspired by the examples of other conservancies across the country who have been innovative in how they use their sites – we have seen places where food is produced for hungry people, places that give job training to people coming out of incarceration, and places where children from urban settings can experience nature. Each successful program is driven by the unique strengths of the conservancy behind it, and the constellation of partners who are drawn together.
We have begun to use our land for social good with the firewood assistance program and have further plans this summer and fall to work with school groups in the southern portion of our service area to get students outside and into nature. People of all ages in these communities may face multiple barriers to experiencing nature and feel that a passion for land conservation is not for them.  Through working with the non-profit 'Finding Our Stride' we will create public running trails for use as a safe and friendly location where everyone can spend time outdoors.
We intend to continue our work at the Brookmead Conservation Area to use the land in service to the community. Those who drive on Turnpike Road in Norwich may have noticed the field on the east side of the road has been mowed and tilled and is ready to be planted. UVLT is planting a Food Pantry Garden, planted and tended by volunteers. All of the produce will be given to Willing Hands, a local non-profit that feeds our neighbors in need, so that they may distribute the food throughout the late fall and winter. We will be planting winter storage crops to be harvested this fall.
The success of this project depends on support from the community and many helping hands. If you are interested in volunteering at the Food Pantry Garden at Brookmead during future work days, please contact UVLT's Programs Director Alison Marchione at alison.marchione@uvlt.org.
https://uvlt.org/wp-content/uploads/2019/07/IMG_4592-small.jpg
756
1008
Jeanie McIntyre
http://uvlt.org/wp-content/uploads/2021/09/uvlt-logo-stacked.png
Jeanie McIntyre
2019-07-05 11:11:41
2019-07-19 11:12:55
Brookmead Food Pantry Garden and the Community Impact of Land Conservation