Thank You to our Volunteers!
Despite the pandemic 2020 was a productive year for UVLT volunteers. From easement monitoring, to the Brookmead Food Pantry Garden, to creating trail networks and building bridges – UVLT volunteers were busy this field season.
UVLT volunteers contributed over 1,500 hours to conservation and stewardship in the Upper Valley! More than 200 individuals over the course of the last twelve months put in a lot of time and effort to provide local produce to those in need, maintain and improve our conservation areas for public use, and monitor our over 500 easements. We couldn't have done it without their help!  The impact that our volunteers had this year goes way beyond the over 1,500 volunteer hours they worked; our volunteers have fed families, improved important outdoor spaces, and promoted conservation in the Upper Valley.
Are you interested in becoming a UVLT volunteer? We have lots of options!
Easement Monitoring: Join the easement monitoring crew and help us to walk our conserved property and make sure our easements are being upheld. Contact Katee Currie-Huggard for more details.
Individual Volunteer Projects and Trail Work: Want to get out in the woods and help us steward our trails and natural areas? We have tons of projects for individuals and families! Email Paul Blazevich for more information.
Brookmead Garden Volunteers: Volunteers help to plant, tend, and harvest our 3/4ths of an acre Food Pantry Garden in Norwich. Join us for our weekly workdays, which will pick up again in May. Email Alison Marchione to sign up.
Corporate Volunteer Groups: You can find tons of information about our Corporate Volunteer Program here and contact Paul Blazevich to get involved.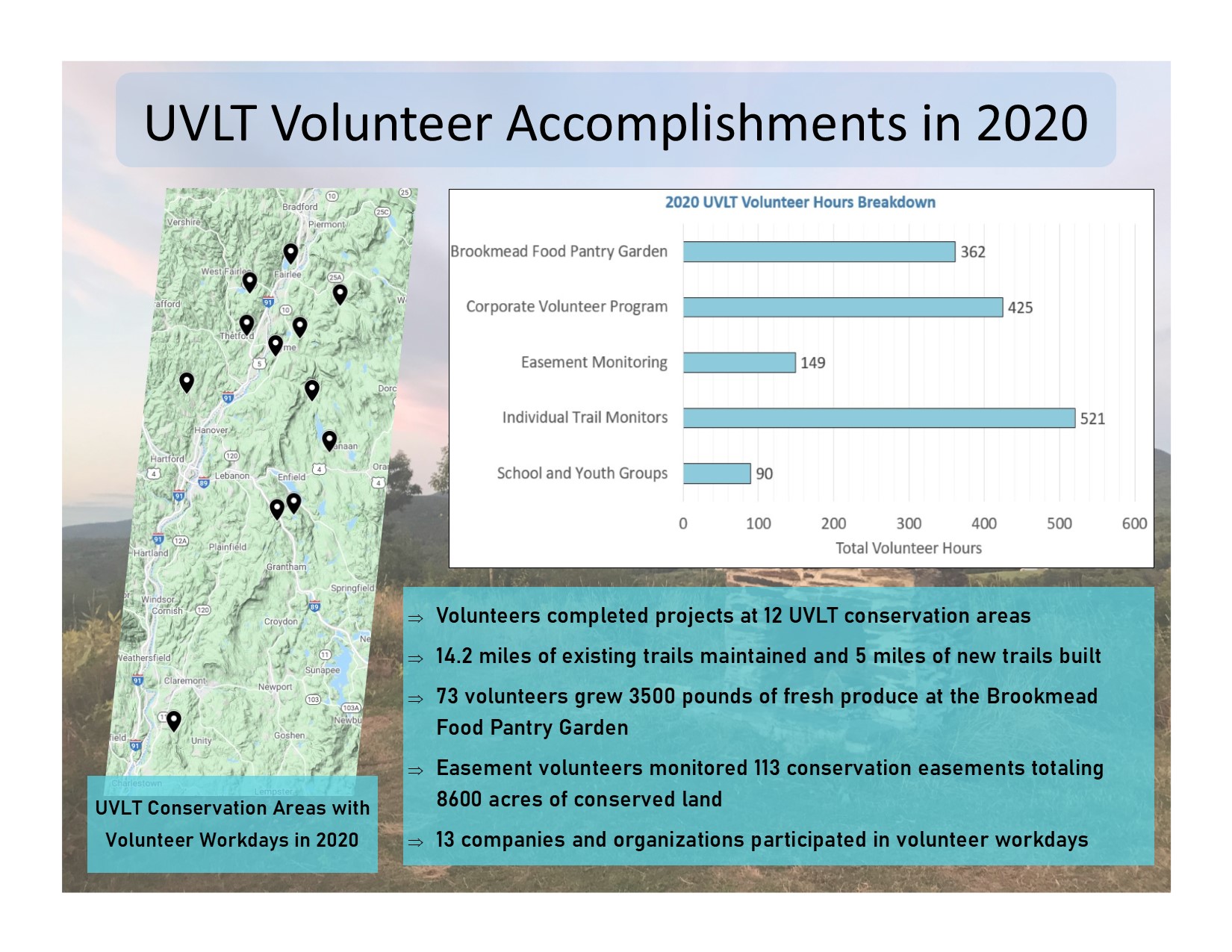 https://uvlt.org/wp-content/uploads/2020/12/Lyme-Hill_2020_CVP-Workday-Bio-X-Cell_PB-57.jpeg
1536
2048
Lorie Hood
http://uvlt.org/wp-content/uploads/2021/09/uvlt-logo-stacked.png
Lorie Hood
2020-12-02 18:50:40
2020-12-16 13:18:29
Thank You to our Volunteers!