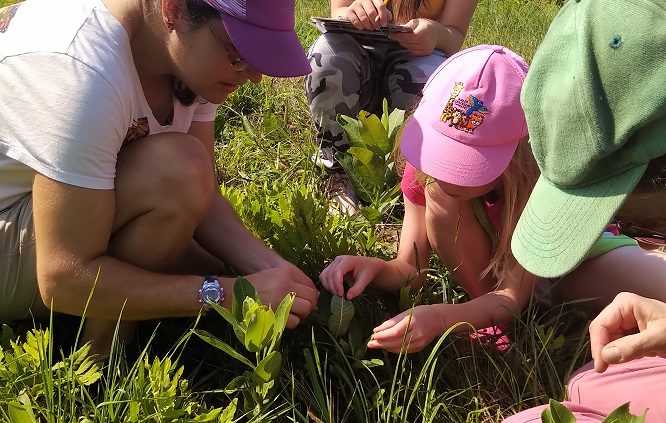 Mission Monarch at Up on the Hill Conservation Area
At the end of a long dirt road the trees open up to revel an open field with a barn and a small parking pull off next to a kiosk. This is Up on the Hill Conservation Area in Charlestown, NH and today we were here to look for monarchs. Folks were arriving in dribs and drabs. Two employees from Mount Ascutney Hospital, grandparents with their grandsons, a mother with two young daughters and an older cousin, and three generations of a family interested in monarchs.
They were all here to participate in "Mission Monarch" a Citizen Science program that teaches people how to identify monarch butterfly eggs and caterpillars and then collect their findings as scientific data.  The program is part of an international research and education effort aimed at saving the migratory populations of this endangered species. Mission Monarch began at the Montreal Space for Life Insectaruim and has spread throughout North America. It is a 9 day long program that takes place during prime monarch breeding time. The Upper Valley Land Trust, in conjunction with the Sullivan County Conservation District, held a Monarch Monitoring Blitz at UVLT owned Up on the Hill Conservation Area on July 30th.
Monarch butterflies are an iconic part of late summer in the Upper Valley. In recent years there have been reports of fewer of these butterflies throughout the United States, with calls to protect their habitat. Monarchs lay their eggs exclusively on milkweed plants (Asclepias syriaca) and these plants are the only food source for the caterpillars. Preserving milkweed in our region and across North America is crucial to supporting monarch habitat and migration. Monarchs have a unique migration pattern, and are the only butterflies that migrate large distances, making them a truly special species to study.
Sullivan County Conservation District's Education and Outreach Specialist Dawn Dextraze is a lover of butterflies and served as the expert in the field for Mission Monarch on July 30th. Monarch migration is a natural phenomenon that is unique among butterflies because of the scope of their migration" said Dextraze, "some monarchs fly over 3000 miles from their breeding site to their overwintering grounds in the Oyamel Fir forests of central Mexico…since many pollinators share the same habitat as monarchs they are an indicator of what is happening to all pollinators."
Mission Monarch is run as a citizen science program to documenting the monarch's reproductive success before they migrate. The program is part of an international research and education effort aimed at saving the migratory populations of this endangered species. "Citizen science encourages public participation in scientific research usually under the direction of professional scientists. It's a terrific tool for both educators, scientists, and land management organizations." said Dextraze.
The project works by gathering our group together to learn four easy steps. First, find and identify milkweed. There are three types in New Hampshire, common milkweed, swamp milkweed, and butterfly weed. During Mission Monarch at Up on the Hill, we looked only at Common Milkweed. Monarchs exclusively lay their eggs on milkweed plants, and milkweed is the only food source for the caterpillars. Once the milkweed is identified, participants look for the small, light yellow monarch eggs on the fronts and backs of the leaves, and for the caterpillars, which are usually near the new growth at the top. Managing for monarch habitat means that you should mow down some – but not all- of your milkweed in early June to have small plants and new growth for caterpillars, while still leaving some bigger plants to bloom and provide a nectar source for adults.
Finally, as milkweed plants, eggs, caterpillars and adults are identified they are marked down on a datasheet, which is then entered online at the Mission Monarch website (www.mission-monarch.org) to be added to all the data collected throughout North America. The group at Up on the Hill monitored 256 milkweed plants and found 49 caterpillars, 101 eggs, and 15 adult butterflies!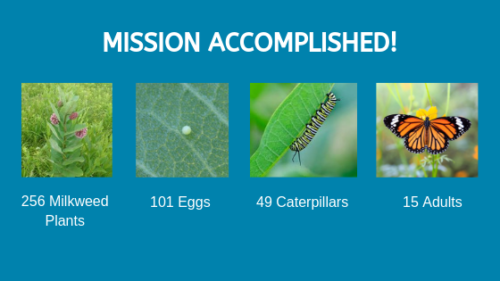 _____________________________________________________________________________________
UVLT and the Sullivan County Conservation District are holding another Monarch Monitoring event at Up on the Hill Conservation Area in Charlestown on Saturday, September 14th. Instead of focusing on eggs and caterpillars we will be catching and tagging migrating butterflies! Be prepared to run (or walk quickly) around with a net to catch those butterflies in the air!
Tagging the butterflies allows for scientists to learn about monarch migration and track where the butterflies come from and where they go. Make sure you mark your calendars and join us for an afternoon of fun for kids and adults! There is no charge for this event and no experience is necessary. More Information about this event can be found on the UVLT webpage (www.uvlt.org/calendar) as well as the Sullivan County page (https://www.sccdnh.org/programs).
https://uvlt.org/wp-content/uploads/2019/08/Mission-Monarch-AM-8-1.jpg
999
666
Jeanie McIntyre
http://uvlt.org/wp-content/uploads/2021/09/uvlt-logo-stacked.png
Jeanie McIntyre
2019-08-07 14:52:06
2019-08-07 14:52:47
Mission Monarch at Up on the Hill Conservation Area